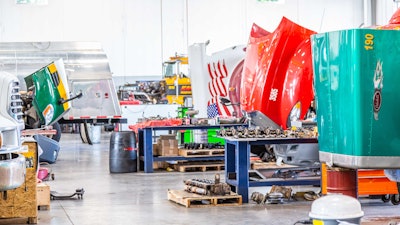 Blaine Brothers family of companies
Working on heavy-duty trucks is serious business. Given the weight of vehicles, some parts and the tools used to fix them, the work can be hazardous if proper precautions aren't taken.
To keep their technicians safe, service providers must be careful, cautious and conscientious to reduce potential workplace hazards, dangerous situations and employee injuries.
Slips and trips
Sadler Power Train deals with transmissions, differentials and drivetrains, all of which contain different types of oil, fluids and grease that can leak during removal or while being moved and could become a slip hazard, says Patrick Frank, inventory control and safety coordinator.
"How and where we store these items as well as the work area in which they are serviced all must be maintained with a good housekeeping policy. We distribute several excellent products from our vendors that we use on a day-to-day basis in our shop from oil spill products to towels, rags and absorbent pads," says Frank.
Immediately covering or cleaning up spills, especially in high-traffic areas is important to the safety of the staff and customers who come on and off the service floor during delivery and pickup.
"Parts also need to be organized at a workstation to make the rebuild and installation work more efficient but also plays a huge role in keeping the workplace, walkways and exits clean from debris that can lead to trips and falls. Daily cleaning and floor cleaning equipment make a huge difference in employee safety and efficiency," Frank says.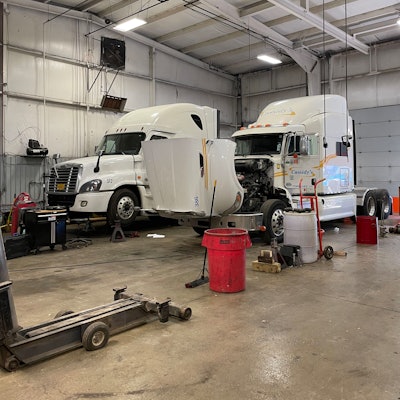 Action Truck Parts Branch Manager Matt Stephens agrees a clean shop is a safe shop.
"You don't want stuff scattered about. Take hose reals, for example. Ideally you want to have them overhead so you just pull them down onto the truck you're working on, not stretching them across the bays where people could trip on them," he says. "Know your surroundings."
Strains and sprains
Because of the nature of the work, strains and sprains can be common, too, but there are precautions to take and equipment to use to minimize them.
Stephens says heavy lifting is a part of the job and its important employees lift with their legs and not their back. Using the proper tools, like the proper pry bars, helps too.
"I can't tell you how many times I pulled a back muscle trying to break a bolt free," he says. "Stretch in the morning before you get in and don't dive into a big job and start cranking on stuff."
Frank says much of the work at Sadler Power Train involves a substantial amount of repetitive movement and a lot of that movement is often done in uncomfortable positions with heavy, bulky pieces of equipment increasing the likelihood of strain.
"Our shops use an overhead hoist system that allows us to move transmission and differentials from one workstation to another without doing any of the heavy lifting ourselves," he says adding that carts and workstations with rising work platforms help eliminate the need to bend over while working. Also, anti-fatigue floor mats and a shoe allowance help with employee comfort.
Tim Lamoreaux, truck shop manager, North American Trailer, specifically mentions brake drums as a possible hazard.
"They are heavy and awkward to handle. Most injuries I have encountered in shops are related to back injuries and, in my experience, I would say 80 percent of the time the injury involved the handling of brake drums," he says. "We encourage techs to use a jack or the help of another technician to lift and handle brake drums along with our stretch program that we do every morning before the techs go to work."
Working under the vehicle
While the work is heavy and can be difficult, there are dangers worse than a strained back. Working under the truck and using cranes can cause serious injury, or worse, if safety isn't top of mind.
PennFleet President Sandi Rapp polled her shop employees and the consensus for top safety concern was transmission work because they're going to be underneath the vehicle and because of the weight of the transmission itself.
"For us it's making sure they're following our safety protocols which involve ensuring the wheels are chocked. We always make sure the vehicle is properly lifted and the jack stands are in their proper position and stable. They're also using the transmission jack and a clutch jack," Rapp says.
More generally, PennFleet techs say any job, not just transmission work, "requiring lifting and getting under the vehicle, whether that's suspension, air bags or brakes," she says, and stresses following lockout/tagout procedures, pulling the keys from the ignition and hanging them from the mirror, and also having a spotter.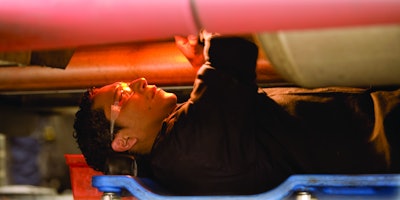 North American Trailer uses overhead gantry cranes in its shop for multiple jobs.
"Knowing the limitations of the gantry and any strap or chain used to affix the crane to the object being lifted is extremely important. Knowing your area is clear where you will be moving heavy objects with the crane also is extremely important," Lamoreaux says.
"We ensure best practices are used for the safety of our technicians while cranes are in use. The first is that anyone in the shop at the time of crane operation is made aware of what will be happening and the path the crane will travel. Second is that the crane operator always has a spotter watching any potential blind spots. Last is that once any crane operation is complete, the tech running the gantry is responsible for making sure it is completely retracted and no hanging hazards are left within 8 ft. of the floor," he says.
Grinding and welding
Sadler Power Train's service department performs various tasks relating to cutting, grinding and welding different materials to build and refurbish drivetrain equipment. Welding, and all forms of hot work, pose significant risk to employees and property, alike, through exposure to compressed gases, gas fumes, burns, cuts, eye damage, electrical shock and the risk of fire and explosion.
"To protect our employees from these risks, our policies ensure only trained and authorized employees are performing this work. We offer the service team company uniforms, a shoe allowance, eye and ear protection, gloves and welding goggles/helmets," Frank says.
He adds flammables also are stored in approved cabinets away from welding activities and Sadler Power Train uses mobile fume arm extractors to remove harmful smoke, fumes and particulates to help protect the air quality in the building.
Stephens also mentions use of a grinder or cut-off wheel as potentially dangerous.
"Your grinder or cut-off wheel is shooting sparks everywhere," he says. In addition to the sparks, there is the importance of using quality discs that aren't cracked or rough around the edges. "If you have an imperfect wheel, it's going to bite and explode."
He says safety glasses and knowing the direction the sparks are shooting are among the top ways to keep the technicians and those around them safe.
There are many potential hazards in the service bay and those were a few of the top ones according to service providers. But all of the possible dangers can be mitigated with the proper safety protocols.
"You can never reinforce enough to employees to wear the standard PPE and making sure they are paying attention, that they have eyes wide open and that they're looking out for each other. One of the things really great about PennFleet is the guys take care of each other," Rapp says.
Frank adds, "In order to protect our workers we need to have strong policy. Those policies are not only designed around data but the insight of those performing the work. We are very fortunate to have both excellent leadership and experience at all our branch locations that are willing to learn, implement and adapt to the changes in the work environment."