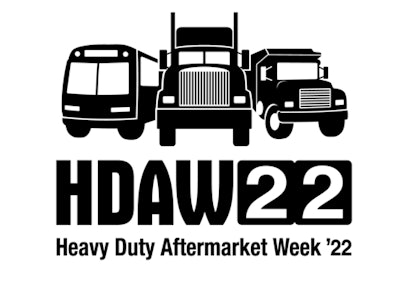 To ensure as safe and productive an event as possible, Heavy Duty Aftermarket Week (HDAW) conference management and organizers have announced updated COVID-19 protocols for this month's event, set to begin Jan. 24, at the Gaylord Texan in Grapevine, Texas.
Based on the national COVID-19 average on Jan. 10, 2022, as determined by the Center for Disease Control and Prevention (CDC) website, HDAW organizers note all HDAW attendees must provide proof of either COVID-19 vaccination or a no more than 3-day-old negative COVID-19 test in order to enter. This will include all HDAW participants, including exhibitor staff, media representatives and online production and logistics staff.
[RELATED: HDAW 2022 Preview: It's time to get back to business]
In addition, HDAW says masks will be required for all, regardless of vaccination status, and onsite testing will not be available.
HDAW says vaccination and negative test guidelines are as such:
Individuals are considered fully vaccinated two weeks after the second dose of the Pfizer and Moderna vaccines, or two weeks after the Johnson & Johnson's Janssen vaccine.
Individuals that are not vaccinated against COVID-19 and/or do not intend to be vaccinated prior to HDAW, must provide a negative PCR test. The negative test must be within three days of the first day onsite at HDAW. For example, if the first onsite day is Monday, Jan. 24, the test must be from Friday, Jan. 21 or later.
Regardless of vaccination status, masks must be worn during all HDAW functions.
After attendees have cleared the HDAW Healthy and Safety checkpoint, they will be able to pick up their show credentials, including badges. An attendee badge will serve as proof of compliance with HDAW's Health and Safety protocols, and attendees will not need to show proof of vaccination or negative test again.
HDAW also notes it will use SafeAccess to verify vaccination status for attendees. All registered attendees and exhibitors will receive an email from SafeAccess, HDAW's partner in validating the vaccination status or negative tests of attendees.
HDAW organizers say the SafeAccess platform is intended to provide a frictionless and secure experience at HDAW. Vaccination information provided will be retained by SafeAccess, and not be stored by HDAW. Those who cannot or choose not to use the SafeAccess platform for whatever reason, will need to bring their vaccination card or negative test onsite and proceed to a secondary proof of screening.
Additionally, for individuals who need to provide a negative PCR test to return home, DevLab Bio, is located approximately 10 minutes from the Gaylord Texan Resort & Convention Center.