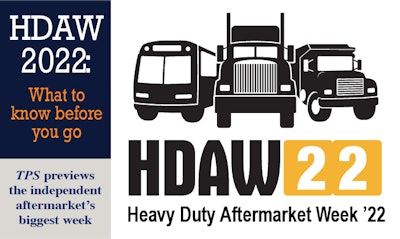 Following a COVID-related hiatus from an in-person event last year, Heavy Duty Aftermarket Week (HDAW) 2022 is back in its standard format and conference co-chairs David McCleave, director of marketing and aftermarket, Hendrickson, and PBS Truck Parts President Bill Nolan are excited the industry will once again be able to come together.
"I think we all miss the opportunity to network and see the new products presented at the trade show. It will take us a long way toward getting things back to the new normal," Nolan says.
Referring to last year's event, McCleave says virtual meetings served their purpose and have a place in today's environment, but they don't "allow for side conversations within the team or the in-depth engagement you need to facilitate important issues. Certain behaviors may never be what they were yesterday, and new behaviors become the 'normal' of today and going forward. We are a social society, and the heavy-duty industry is still done at a personal level. So being in person is the 'normalcy' we all seek."
Nolan says the 2022 event to be held Jan. 24-27 in Grapevine, Texas, is especially crucial given everything the industry dealt with last year.
"We have developed strong partnerships between distributors and suppliers. Reinforcing these relationships is very important to us all. In addition, we all need to work together to get through the strains that the supply chain has put on us. A conversation is a good way to start," he says.
McCleave adds the companies can only learn so much within their own four walls and in-person interaction with peers and colleagues are needed to continue to grow the industry. 
"HDAW is a time of strengthening and creating new relationships, sharing ideas and new products," he says, adding diversity in people, process, products and ways of doing business breeds change and change drives innovation. "HDAW is where all this comes together so we can learn from one another to keep thriving in an industry that is the backbone of our economy."
HDAW 2022 features three educational sessions: how the heavy-duty aftermarket can profit from telematics and predictive maintenance; upping your retention and recruitment game in these changing times; and how is the industry adapting to supply chain challenges?
"We want educational topics to be relevant to what is happening today, and to prepare for what is coming tomorrow. The educational sessions will provide insights into the current supply chain, equipment technology and human resource challenges. The sessions have been developed to drive audience engagement and provide information distributors can use to modify their business strategies and tactics for continued growth," McCleave says.
Nolan says much thought went into determining some of the most important industry issues to highlight.
"Out of everything we discussed, these three areas were the highest priority in everyone's business," he says. "Every distributor and supplier should be able to use one idea to improve their recruiting or their supply chain and we all need to figure out how we are going to handle telematics and predictive maintenance. We need to develop a way forward before it happens without us."
While the aftermarket celebrates the return to a live event, the 500 lb. gorilla in the room is the announcement of a new Omicron variant of COVID-19. The co-chairs say organizers are keeping tabs on the situation.
"Safety is of the utmost importance. We want people to go home the same way they came to work or an industry event. We continue to monitor the fast-changing environment and will follow CDC and the state of Texas guidelines," McCleave says.
Nolan says the new COVID-19 variant is concerning "but we are not letting it change our plans. We have protocols we will be following. We hope that COVID will be under control but if not, we'll adjust. Regardless, COVID is with us. It will be with us for the rest of our lives. We need to get back to work. HDAW is a good start."
This is the first of three TPS articles previewing Heavy Duty Aftermarket 2022. Check back next week for our second preview in the annual series.