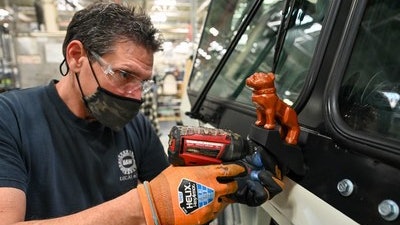 Mack Trucks
With the news Monday the United Auto Workers (UAW) and General Motors have reached a tentative agreement on a new 4-year contract, it appears the biggest strike against Detroit's Big Three automakers in history is nearing its end.
Tentative agreements also were announced with Ford and Stellantis last week and while all three agreements still require approval from UAW workers for the manufacturers, optimism exists around the agreements.
UAW President Shawn Fain urged members to approve the deal with Ford, bringing 57,000 union members back to work, and early predictions of the deals indicate UAW earned key wins on pay scale, retirement benefits and other points of contention that will hopefully bring workers back to plants.
Ending the strike would benefit other manufacturers too — even those in the trucking industry.
[RELATED: MEMA survey details supplier layoff concerns]
While UAW's strike efforts against automakers have earned most of its national headlines over the last month, the organization also has active strikes ongoing at three Mack Trucks facilities. Mack and UAW reached a tentative agreement of their own earlier this month, but UAW workers overwhelmingly rejected the deal, responding with a new deal the truck maker called "unreasonable."
Mack did not answer questions regarding this story, but Friday released a statement that it "stands by the economic terms of its Oct. 1 tentative agreement with the union, which UAW leadership endorsed and called a 'record' contract for the heavy truck industry."
Mack stated the Oct. 1 agreement would increase the average wage for a UAW worker at a Mack facility by nearly 36%, with an immediate wage increase for all covered employees of nearly 15%. For employees not yet at the top rate — nearly half the total workforce, Mack added — the average increase over five years would be 55%. Healthcare premiums also would remain unchanged for five years despite a 66% increase in the company's costs, Mack stated.
Mack said Friday no new discussions with the UAW have been scheduled. But others believe it is possible if the Big Three strike concludes soon the UAW could potentially focus its attention on Mack.
MEMA Original Equipment Suppliers COO Collin Shaw stated Friday that while MEMA cannot speculate on the concurrent timelines of the automotive and heavy-duty strikes, "the energy behind the requests made of the Big 3 most likely are a contributing factor."
Resolving the Mack strike quickly also would prove immensely beneficial for the supplier sector, as many component manufacturers support the light- and heavy-duty industries.
A MEMA survey conducted earlier this month indicated 80% of component suppliers supporting Detroit's auto industry are prepared to begin laying off workers in November if the strike is not resolved. MEMA's survey also uncovered 42% of smaller MEMA suppliers were beginning to have questions about their internal financial viability due to the strike reducing demand for their products.
Shaw said Friday 46% of MEMA members surveyed have idle facilities and, as an industry, suppliers anticipate it will take 1.6 weeks on average to ramp up production to pre-strike levels once auto workers return to the floor.
"The economic impact of this strike, depending on its length, could be very meaningful," said Shaw. "Suppliers make up 2.5% of the U.S. GDP and will continue to be on unsteady ground as they are navigating a path forward to get back to pre-pandemic levels. Sub suppliers are particularly at risk with this strike; their financial viability will directly impact Tier 1 suppliers' production ability."
[RELATED: Mack Trucks balks at union's 'unreasonable' demands]
Shaw added, "As anyone knows though, production only moves as fast as the slowest activity, and there are some suppliers that are reporting a greater than three-week ramp up plan."
He added MEMA is doing what it can to remain engaged with its members and government entities to ensure businesses can rebound quickly from the strikes as they conclude. A swift return to normal would reduce the risk of any strike-related downturn torpedoing the last quarter of the year.
"Supplier members are focused on their own operations; making decisions that will allow them to minimize ramp up time and retain as much labor as possible," Shaw said. "Our Washington D.C. team is working with the White House and various other agencies to explain the supplier point of view."
Shaw added some suppliers have been able to increase aftermarket output over the last month to withstand OE production losses but said that tactic does not serve as a direct replacement for OE business and revenues.
"Members are capitalizing to make up for replacement parts, but the longer the strike goes on the ability to make up the gap with replacement parts decreases," he said.