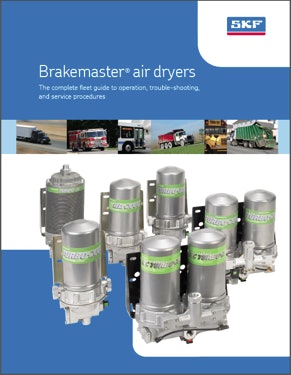 SKF says it has updated its Brakemaster air dryers service guide to include technical tips, detailed installation instructions, service procedures and parts listing information.
The 142-page service guide covers the SKF Brakemaster air dryer line, including the HC Dual Turbo-2000, Dual Turbo-2000, Turbo-2000, HD-2000, Turbo-3000 and Turbo-AC. The part listing section also highlights recommended part numbers for stocking frequently requested service components.
"We have updated the Brakemaster air dryers service guide to provide the most up-to-date product and service information to fleets," said Doug Fike, heavy duty, product manager, SKF.
The technical tips section includes a variety of tips geared toward servicing Brakemaster air dryers, and also includes tips for servicing turbo series desiccant cartridge T224, identifying E-type compatible air dryers, fall maintenance recommendations and more.