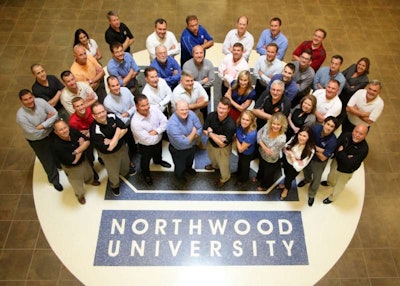 The University of the Aftermarket kicked off this year's Leadership 2.0 last week with the largest class in the program's 20-year history.
On Sunday, August 25, the class of 40 aftermarket professionals gathered for a welcome reception, dinner and speech delivered by AASA President Bill Long.
Leadership 2.0 is a two-week, residential aftermarket-focused education program designed to develop the leadership and business skills of the next generation of visionary professionals. Session I, which concluded Friday, was held at the Sloan Family Building for Aftermarket Studies on Northwood University's Midland, Mich., campus. Participants will reconvene in April 2014 for Session II, which will take place on Northwood's campus in West Palm Beach, Fla.
According to Northwood, instructors blend decades of senior aftermarket experience with MBA-level instruction from Northwood University's DeVos Graduate School of Management faculty. The program includes discussion on industry trends and market analysis, debate of new challenges and competitive strategies, skills training in team and individual leadership, insight into supply-chain solutions and other critical issues facing the industry. Participants in this year's program represent the widest-range of aftermarket companies and market segments in the program's history, the school says.
"Every year the program grows in popularity and prestige," says Brian Cruickshank, University of the Aftermarket director. "We are thrilled to have such a large and diverse class, thanks in large part to the generosity of the University of the Aftermarket Foundation and the Automotive Warehouse Distributors Association."
Participants receive 7.0 credits toward completion of their Automotive Aftermarket Professional (AAP) or Master Automotive Aftermarket Professional (MAAP) designations.
For more information and to reserve a spot in the 2014-15 Leadership 2.0 class, please visit www.universityoftheaftermarket.com, or call 800-551-2882.