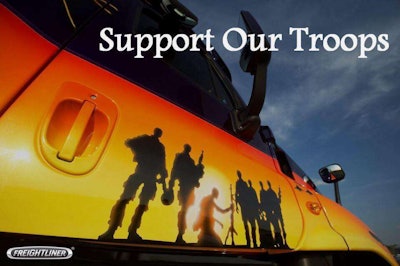 Meritor is taking its show on the road.
The company is rolling out two mobile service vans, which will soon embark on a five city tour to help train customers and technicians on Meritor's products.
Walt Sherbourne, Meritor Senior Director, Field Sales, North America, says the vans have already helped train upwards of 250 technicians this calendar year, and will do five citywide training acorss the U.S. this year.
"This is a milestone for us," he says. "We anticipate training well over a couple thousand (technicians) this year."
"We're going to step up," Terry Livingston, Meritor General Manager, Global Product Management and Shared Services, Aftermarket, says. "We're going to show people how to do training."
Each of the Nissan high-roof NV3500 trucks, wrapped in unique Meritor trailer decals, will offer hands-on training to service managers, shop supervisors, service technicians, maintenance directors, drivers and dealer-fleet trainers for drivetrain and undercarriage aftermarket components.
Meritor says the trucks are designed to meet the immediate needs of North American customers for aftermarket products and systems.
Rick Martin, Meritor Senior Manager, Aftermarket Training, says initial training will focus on braking systems, and the company will offer two styles of training sessions:
• Citywide training with two three-hour sessions covering eight distinct brake subjects at hotels in select major cities, conducted by Rick Martin
• One-on-one clinics at fleets, dealerships and warehouse distributor locations across the U.S. and Canada, conducted by DriveForce district managers.
Sherbourne says "classes" will likely be broken into two sessions at each site. The first would be designed for directors of maintenance and other high-level executives, and would focus on regulations established by the Federal Motor Carrier Safety Administration (FMCSA). The curriculum will include an overview of the Federal Motor Vehicle Safety Standards (FMVSS 121) stopping distance requirements, reduced stopping distance regulations and the new compliance and safety accountability (CSA) structure.
The second would be designed for technicians.
The hands-on training is yet another educational outreach from Meritor, which already hosts 120 training videos on its website.
"Sometimes you need more than what's in that video," Livingston says. "Here's the hands-on piece that tops off that video."
Both trucks are equipped with video monitors and working air systems boards, as well as actual brake hardware. For hands-on training purposes, each van will have actual cam and air disc brake hardware, friction and wheel ends, air valves, air dryers, Meritor WABCO RSS stability control systems, electronic diagnostics, automatic traction control, anti-lock brakes and collision mitigation systems.