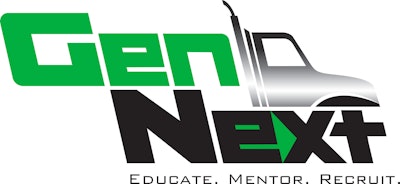 A new, young group of heavy-duty trucking aftermarket leaders have formed a new organization, GenNext, to educate, mentor and recruit the next generation of aftermarket leaders.
"This group is comprised of the up-and-coming leaders of tomorrow in the aftermarket truck parts industry. While the group's message is meant for younger executives (45 and under) any age level is welcome to join," says Steve Hansen, GenNext president from Minimizer.
"Our group can make a difference in the future of our growing aftermarket," adds Hansen. "All of us care so deeply for the heavy-duty aftermarket and we want to give back in terms of people development and enriching the futures of the industry's leaders.
There's plenty of opportunity since we serve aftermarket customers in the tractor, trailer and specialty vehicle markets."
Other officers include: Vice President: Ian Johnston – Harman HVS; Secretary: Derek Quys – Premier Manufacturing; Treasurer: Edward Kuo – Datalliance / HDX Services. Board Members are Bill Betts – Betts HD; Jason Kraus – Meritor; Emily Poladian – Firestone Industrial Products; Robyn Spitzke – Fort Garry Industries, and Vicki Webster – Potter Webster.
The group's senior advisors are Craig Kruckeberg from Minimizer and John Minor at Midwest Wheel Companies.
The group says it plans to hold a first-quarter educational webinar in March (details to be announced). This free webinar will be a clear indicator of the wealth of knowledge and expertise that the members can learn from in order to advance our aftermarket, the organization says.
More details on the organization are available at www.gennexthd.com. Interested parties also can follow GenNext on social media at on Facebook (Gen Next – Heavy Duty), on Twitter (@GenNextHD), or on LinkedIn (GenNext-HD).