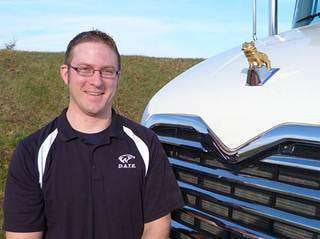 Mack Trucks has awarded Nathaniel Chyle, a student enrolled in WyoTech's Diesel Advanced Technology Education (DATE) for Mack Trucks program in Blairsville, Pa., with a Mack Trucks DATE Scholarship.
Chyle, who says he hopes to become a shop foreman or lead technician, will use the $8,700 scholarship to take part in the three-month DATE program in preparation for a position servicing and repairing Mack trucks. Students enrolled in the DATE program receive specialized training on Mack engines, electronics, emissions, powertrain and chassis components. The program is designed to help students graduate as advanced apprentice technicians with a potential for an accelerated path to achieve Mack master technician status.
"Students who complete WyoTech's DATE program for Mack Trucks in addition to the core Diesel Technology training program are ready to join the workforce and will bring extensive hands-on experience to their new positions at Mack dealerships," says Dale Eslinger, executive director of the WTI Foundation, a 501(c)(3) non-profit organization that administers scholarships for WyoTech students.
Mack's own technician training programs, offered through the seven Mack Trucks Academy locations, also recently received recognition, winning a 2013 Excellence in Learning Award from the Brandon Hall Group, a preeminent research and analyst organization focused on driving organizational performance. Mack Trucks Academy took home a Gold Award, the highest honor, for its comprehensive curriculum and certification program that helps Mack technicians progress through training paths as they work toward becoming master technicians.
"It's an honor to receive what is often called an 'Academy Award' by the learning industry," said John Walsh, Mack vice president of marketing. "Strong training and certification programs are essential to Mack's businesses, helping ensure our service technicians are authorities on the operations of our vehicles and are up to speed on the latest technologies."
Mack's certification program blends online and instructor-led courses, followed by comprehensive skills testing, to help technicians achieve the competencies needed to progress from skilled, to expert and ultimately master technician and maintain those certifications. At minimum, 50 percent of a Mack dealership's service technicians must maintain Expert or Master Tech status.