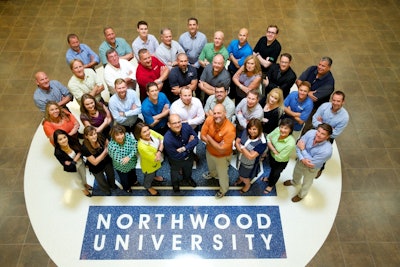 Retired Worldpac CEO Tom O'Hare shared industry insights and leadership and career management advice, drawing on his vast experience, to 36 automotive aftermarket professionals hailing from throughout the industry. The group gathered at Northwood University in Midland for the kickoff of the University of the Aftermarket's latest Leadership 2.0, the industry's formal leadership-development program.
Leadership 2.0, a two-week, residential aftermarket-focused education program, is designed to develop the leadership and business skills of the next generation of visionary industry professionals. Session I, which concluded on Aug. 29, met at the Sloan Family Building for Aftermarket Studies at the university's Michigan campus. Participants will reconvene in March, 2015 for Session II, which will take place on Northwood's campus in West Palm Beach, Florida.
During each session, instructors blend decades of senior aftermarket experience with MBA-level instruction from Northwood University's DeVos Graduate School of Management faculty. The program includes discussion on industry trends and market analysis, debate of new challenges and competitive strategies, skills training in team and individual leadership, insight into supply-chain solutions and other critical issues facing the industry. Participants in this year's program represent the widest-range of aftermarket companies and market segments in the program's history.
Members of the 2014-2015 class include:
Kelly Anderson, A-Plus Automotive Inc
Sue Bonino, Permatex Inc
Brian Bowersock, West Automotive Group
Jerry Creamer, Midas Auto Service & Tires
Rick Denton, Orleans Auto Supply Inc
Mike DiGregorio, Dorman Products
Andrea Divis, Advance Auto Parts/CARQUEST
Mike Englert, Uni-Select USA
Dave Erb, Dave's Ultimate Automotive
Elizabeth Estes, Parts Warehouse Inc
Brent Fletcher, Federal-Mogul Motorparts
Kelly Garrison, Maxi Automotive
Dawn Gonzalez, Trico Products Corp
Victor Gonzalez, Uni-Select USA
Chuck Hartogh, C&M Auto Service Inc
Carri Irby, Tenneco Inc
Melissa Jablonski, Delphi Product & Service Solutions
Eric Johnson, The Merrill Company
Ryan Kooiman, Standard Motor Products
Scott Kraus, O'Reilly Auto Parts
Emily Lawler, Standard Motor Products
Mike Mohler, National Pronto Association
David Moilanen, Continental Corporation
Eric Muir, Brighton Auto Service
Geoff Nesburg, Service Auto Parts
Shane Norman, Eastern Warehouse Distributors
Dave Pinkham, Auto Care Association
Ashley Portal, Standard Motor Products
Aaron Rycroft, Tenneco Inc
Steffanie Savine, The Marx Group
Jon Sechrist, Motown Auto Distributing Inc
Tim Tallent, NGK Spark Plugs (USA)
Tom Trojan, Gates Corporation
Rich Violette, Standard Motor Products
Dan Winslade, Eastern Warehouse Distributors
Jerry Zielinski, Motown Auto Distributing Inc
Participants receive 7.0 credits toward completion of their Automotive Aftermarket Professional (AAP) or Master Automotive Aftermarket Professional (MAAP) designations.