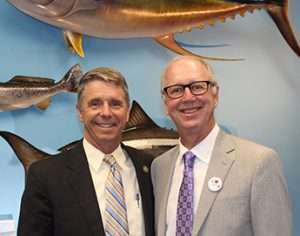 A day after Rep. Doug LaMalfa (R-Calif.) introduced H.R. 2946, "Heavy Truck, Tractor and Trailer Retail Federal Excise Tax Repeal Act of 2017" to the U.S. House of Representatives, truck dealers from across the country heading to Washington, D.C., as part of the American Truck Dealers' (ATD) two-day legislative briefing on Capitol Hill.
"The 12-percent federal excise tax on heavy-duty trucks is the highest percentage rate of any federal excise tax that Congress levies, and it adds $12,000 to $22,000 to the price of a new heavy-duty truck," said ATD Chairman Steve Parker. "The FET depresses new heavy-duty truck sales and delays the deployment of cleaner, safer and more fuel-efficient trucks."
Between yesterday and today, ATD members will hold 92 meetings with lawmakers on Capitol Hill. Rep. LaMalfa also is scheduled to address the ATD board members and fly-in attendees today.
Other ATD legislative priorities at this year's legislative briefing include comprehensive tax reform and issues such as estate tax repeal and preserving the Like-Kind Exchange tax provision.