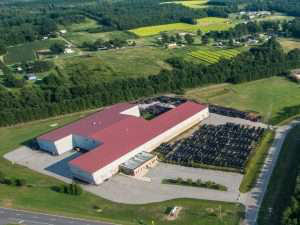 CIMC Intermodal Equipment has relocated and consolidated its Emporia, Va., operations to a new 78,500 sq.-ft. facility designed to better serve its customer base on the eastern seaboard and in the Great Lakes and heartland regions. CIMC Intermodal Equipment is the United States' domestic wheeled intermodal representative group of CIMC Vehicles.
CIMC says the new facility located on fifteen acres in Emporia and completed in May 2017 will provide increased production capacity to support the growing demand for CIMC 53- ft. chassis shipped from this east coast location. The site is equipped with six new cranes ranging from ten tons to twenty-five tons that have increased the productivity of in-process assembly of CIMC intermodal chassis, the company says.
During the ribbon cutting ceremonies, Chris Ratliff, vice president of operations said, "One of the largest orders for us was assembled and delivered from this new facility without a hitch. The customer was very impressed with the outstanding service. The recent substantial uptick in demand for our chassis in this area has pushed us to rival the output of the South Gate, California production plant."
The Emporia CIMC location supports the company's growing dealer network of twenty-five stores in this region.
CIMC says this number is expected to continue increasing as CIMC increases output to meet the needs of additional U.S. intermodal customers for new chassis.
"Our move to this new location was very timely," says Missy Pinksaw, executive office manager in Emporia. "We are now more efficient and more productive as demand for our chassis increases."