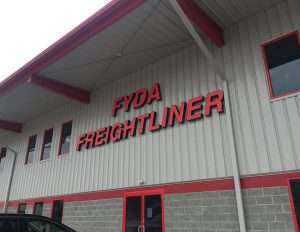 Fyda Freightliner Western Star of Northern Kentucky opened for business on Monday in Walton, Ky.
Sitting on 14 acres, the 46,000 sq. ft. full service truck dealership is conveniently located at 11095 Dixie Highway, which is situated on I-71/I-75 at Richwood exit 175.
"We opened July 31st and we couldn't be more pleased. Our first customer actually walked through our doors last Friday and we had the part he needed in stock," says Dan Ruhe, general manager. "We chose the Northern Kentucky area in order to better serve our current customers within their home bases, while expanding our services to a wider area where customers won't have to deal with the delays associated with travelling to Cincinnati across the Ohio River.
"We are now the only full-service Class 8 truck dealership on I-75 in northern Kentucky, and are pleased that we have been able to create 40-plus new jobs to date to support the local economy, with many more job opportunities on the horizon."
Fyda Northern Kentucky offers extended hours of operation six days a week. The parts and service departments open are open Monday through Friday 7 a.m. to 7 p.m. and Saturday 7 a.m. to 3 p.m. Truck salespeople are available Monday through Friday 8 a.m. to 6 p.m. and Saturday 8 a.m. to noon.
Customers are invited to take advantage of opening service specials which include a Dyno Health Check for $299, Hunter Total Axle Alignment for $199, and DPF Cleaning for $250. Customers interested in these services can make appointments by calling (859) 379-7330. A Flywheel Turning Special is running for $65, or free with any clutch purchase. All opening specials are valid through December 2017.
Fyda Northern Kentucky will carry a large inventory of new Freightliner and Western Star and all-makes pre-owned heavy- and medium-duty commercial trucks, the company says.
The parts department offers free parts delivery and carries approximately $1 million in Freightliner and Western Star OE parts, a full line of all-makes truck parts and components, and selected trailer parts. The 24-bay service department is a certified warranty center for Freightliner, Western Star, Detroit, Cummins, Eaton, and Meritor, and features a chassis engine Dyno and a Hunter computerized alignment rack.
Full maintenance and repair services are available for all brands of commercial and large recreational vehicles including DPF and DOC cleaning and maintenance, flywheel machining, glass repair, and radiator repair service. All Fyda Freightliner technicians are factory trained and certified on the latest diagnostic equipment.