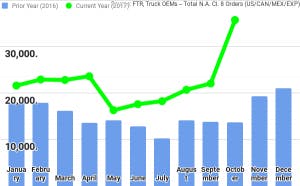 Surging Class 8 orders and in-line medium-duty sales pushed preliminary Class 5-8 order totals to 55,700 units, the highest levels in nearly three years in October, ACT Research reported on Thursday.
"Seasonally adjusted, orders rose 5.7 percent from September to 48,900 units," says Kenny Vieth, president and senior analyst at ACT Research. "For 2017 year to date, orders after seasonal adjustment have been very consistent, ranging from 41,400 units in May to October's 48,900 unit tally."
ACT says these preliminary October NA Class 8 net orders significantly surpassed expectations, rising to 36,200 units.
"October's orders represented a 160 percent year-over-year jump from a particularly easy, cancellation impacted, year-ago comp," says Vieth. "October is typically the second strongest order month of the year. As such, seasonal adjustment boost lowers the monthly intake to 31,600 units, or a 379,400 unit SAAR, up 20 percent from September."
FTR on Thursday also reported a great Class 8 month for October at 35,700 units. A month-over-month increase of 62 percent versus September and 167 percent above a year ago.
Order volume for October met FTR's expectations for the market's early fall buying season. The strength exhibited by Class 8 orders in October highlights improving freight conditions and freight rates in 2017 that will lead to a rebound in carrier profitability in 2018, ACT says.
"October's preliminary orders clearly put upward pressure on ACT's expectations for Class 8 demand next year," adds Vieth. "At the same time, we recognize the potential that this year's NACV show [September] may have pulled-forward the timing of orders that would normally have been placed through the fourth quarter."
Overall, FTR says the growth was not uniform across all OEM's but nearly every manufacturer saw a month-over-month increase. North American Class 8 orders for the past twelve months have now totaled 261,500 units.
"Class 8 orders surged in October. The market seems well situated for a strong production environment to persist into 2018. FTR has been anticipating a strong 2017 fall order season since early this year. The market continues to follow our expectations and highlights that the market fundamentals remain solid as we approach 2018," says Jonathan Starks, chief operating officer at FTR.