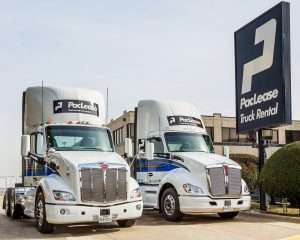 The heavy and medium-duty truck rental market is running on all cylinders with rental utilization in the PacLease system increasing markedly over the past four months, according to Chachi Hernandez, PacLease's national director of rental operations.
"In Class 8 rentals, we've seen a 20 percent jump across the country, with the West Coast being the hottest market – with a 25 percent increase over the past four months," Hernandez says.
"Prior to the spike, there were a lot of unknowns with where the economy was headed. But confidence has strengthened and the economy is growing. Increased rental activity signals an increase in leasing and sales of trucks. PacLease is well positioned with our customers. Over the past five years our franchise rental fleet has been growing at an annual 8 percent clip."
According to Hernandez, growth in the Class 6-7 medium-duty segment is also heating up, "being driven in part by the seasonal need of the agricultural business," he says. "Overall it's strong too."
Hernandez says rental customers have unique needs and reasons to rent.
"Traditionally, customers might have a truck in the shop and need a short-term replacement, or they get a new customer who needs immediate servicing now, and secure a rental unit to handle the business while they shop for a new truck. We're also finding some customers who have ordered new trucks and use rental trucks as a bridge. Older trucks will have maintenance needs. Many fleets trade them in when they order, or put them up for sale themselves."
Canada Cartage, the largest contract carrier in Canada with more than 3,400 power units, is a prime example, he says.
"We typically rent 150 trucks at a time, and that's just in the Ontario region," says Don Smith, who serves as the Ontario operations fleet manager for Canada Cartage.
"As we see spikes in business, we'll rent trucks and we use rentals as a bridge when we have trucks on order."
Hernandez offers these considerations to help customers find the right rental:
Age of the Rental Trucks
"Even if you plan to rent on the short-term, you should get a rental unit that will perform best in your operation – you don't need to compromise," Hernandez says. "Look for late model trucks to help ensure the truck is reliable and features the latest technology to improve fuel economy, and driver comfort. Most national rental companies, like PacLease, buy new trucks for their rental fleets, but others take trucks coming off a full-service lease, and put those in the rental fleet."
Best Specs for Local Terrain
"Look for rental trucks that were spec'd by your local lease/rental company for their own market, and for 'you,'" advised Hernandez. "Some rental companies offer the same rental trucks throughout the country, with the same specs. But, a truck driver in Florida has a different terrain to navigate than one in Colorado. As an example, if you live in areas with hills and mountains, make sure you have the horsepower and torque to make driving more efficient and productive. What's more if you have a specialized operation and need to rent trucks, your local rental company might not have the perfect truck – but someone in their network, might. It's not uncommon for a franchise to bring in a special rental truck that works better for their customer."
Reliability and Peace of Mind
Is your rental truck going to be reliable and what happens if there is a problem on the road?
"That's an important question," stressed Hernandez. "A well-maintained truck is a must and that's the most important component in renting a reliable truck. That being said, trucks are mechanical and they can break down. If that happens, how will your rental company respond? You need to count on your rental company to provide immediate assistance — finding another truck and resolving any issues so you can complete your delivery."
According to Hernandez, the company is also seeing a steady climb in customers who rent before they lease.
"It makes great sense and we encourage it for those who are considering leasing for the first time," he says. "You test drive a car before you buy it. The same approach works well for leasing. You should rent the truck you're interested in leasing, see how well the lease/rental company takes care of that equipment and you; and how well your drivers like the truck. It takes the risk out of the commitment and helps a fleet make a smart business decision."
Still other renters see an uptick in business that may or may not turn into steady business.
"In those cases a rental makes great sense. Rentals provide flexibility since you get a late model truck, and shorter-term options," says Hernandez. "We also have customers who just like to rent – they want no risk at all in terms of truck ownership, or in having a multi-year commitment with leasing."