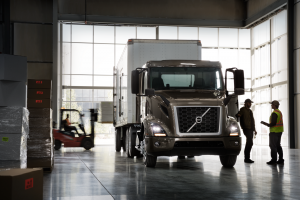 Vanguard Truck Centers has added to its portfolio of locations with the acquisition of a Houston, Texas-based Volvo dealership. The acquisition enables Volvo Trucks to continue providing outstanding service and support to its Houston area customers through Vanguard.
"Vanguard Truck Centers has played a key role in supporting the success of Volvo Trucks customers for many years," says Bruce Kurtt, senior vice president of sales for Volvo Trucks North America. "We know Vanguard is committed to delivering the highest level of service at all its dealerships, including this newest location in Houston."
Located on the I-10 corridor near the I-610 interchange in east Houston,  Vanguard says its new location features 28 service bays, including 12 body shop bays. Additionally, nine 'Quick Care' bays are available to speed the repair process, the company says.
"We are excited to open our newest location in Houston, Texas," says Tom Ewing, CEO of Vanguard Truck Centers. "We look forward to continuing to provide Volvo Trucks customers the comprehensive service they've come to expect from Vanguard and our knowledgeable staff."