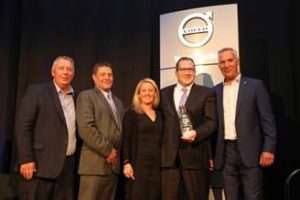 Volvo Trucks has awarded S&S Volvo of Lima, Ohio, as its 2017 Dealer of the Year for North America. Volvo Trucks also honored its top dealers in Canada and Mexico. The 2017 Canada Dealer of the Year is Sterling Truck & Trailer Sales of Regina, Saskatchewan, and the 2017 Mexico Dealer of the Year is Tractocamiones y Refacciones de Chihuahua SA de CV of Chihuahua.
The annual North American Dealer of the Year award recognized S&S Volvo of Lima, Ohio and its employees for outstanding performance in a number of key areas, including new truck sales, market share, parts sales, customer satisfaction, dealer operating standards, franchise investment and support for other dealers.
"S&S Volvo excelled in a strong market in 2017 and consistently exceeded their organizational goals while delivering outstanding service and support to Volvo Trucks customers," says Bruce Kurtt, senior vice president of sales for Volvo Trucks North America. "Dealer Principal Todd Schaub and the whole S&S Volvo team maintain a strong commitment to the success of their customers and are an exceptional representation of the Volvo brand."
S&S Volvo, in business for more than 20 years, greatly exceeded its sales objectives, nearly doubling their 2017 sales plan, and supported a wide range of customers and applications with products across Volvo's Class 8 product lineup. They strongly utilize ASIST, Volvo's online service management and communication platform, and nearly half of the technicians at S&S Volvo maintain Volvo Master Technician certification.
Volvo Trucks' 2017 Dealer of the Year award recipients include:
North America: S&S Volvo – Lima, Ohio
U.S., Central Region: M&K Truck Centers – Alsip, Ill.
U.S., Northeast Region: S&S Volvo – Lima, Ohio
U.S., Southeast Region: Action Truck Center – Dothan, Ala.
U.S., Southwest Region: Volvo Trucks of Waco – Waco, Texas
U.S., Western Region: Mobile Fleet Service – Yakima, Wash.
Canada: Sterling Truck & Trailer Sales – Regina, Saskatchewan
Mexico: Tractocamiones y Refacciones de Chihuahua SA de CV, Chihuahua