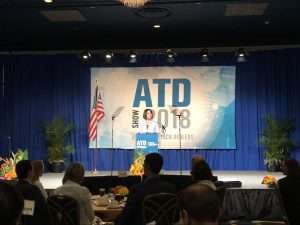 New American Truck Dealers (ATD) Chairwoman Jodie Teuton of Kenworth of Louisiana told her fellow dealer colleagues "now is the time to seize the day" during her opening address as the organization's leader during a luncheon Saturday at ATD Show 2018 in Las Vegas.
As vice president of Kenworth of Louisiana and Southland Truck Leasing in Gray, La., and the first woman to be elected ATD chair, Teuton says she sees a lot of challenges, but also a lot of opportunities, ahead for commercial truck dealers. A changing marketplace is going to force dealers to change their business strategies to be successful, but Teuton is confident the ATD membership will be able to adapt and prosper.
"Truck dealers are not afraid of a hard day's work," she says. "Our businesses are built on it."
Among the vehicle challenges Teuton believes could become potential opportunities for truck dealers are electric vehicles and driver-assist or autonomous vehicle technology. Teuton says "we need to understand how autonomous and assisted-vehicle legislation will affect our industry in the future, and how new technology will impact customer demand." Teuton says dealers should be engaged with their OEMs and local regulatory and legislative leaders to better understand how these technologies will come to market, and how they will need to be supported by dealers to best help solve customer problems.
On that latter point, specifically, Teuton says she believes the strength and viability of the commercial truck dealer network will remain in its ability to provide customizable customer solutions.
During Saturday's speech Teuton also urged dealers to take an interest in legislative issues, including the current administration's infrastructure proposal, changes to the tax code and regulatory burdens that impact truck dealerships.
"Let's continue to build bridges with our lawmakers and regulators. Invite them to the dealership. Let them see the faces of your business. Help them understand our challenges and let them know the rules affecting our business should be practical for both dealers and the customers we serve," she says.
Finally, Teuton says dealers need to look to the future, and alternative recruitment strategies to bring the best young talent available into the trucking industry.
"We want to be the employer of choice. We provide well-paying jobs that support families and communities. The quality of our operations rests in the teams we build," she says. "Women and millennials are untapped resources in our industry. As a parent of a 17-year-old in Generation Z, I know there's a dynamic job force that's coming on the heels of millennials. We just need to attract them to our business. Let's get everyone excited about dealership careers."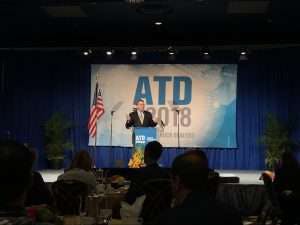 Consolidation also likely for market
Following Teuton during Saturday's luncheon was Steve Tam, vice president of ACT Research, who quickly walked attendees through the results of a Commercial Truck Dealer Future Landscape study completed by ACT Research and commissioned by ATD last year.
Unsurprisingly, Tam reiterated many of the topics addressed by Teuton in her speech — electric and autonomous trucks, government involvement and employee recruitment — as key areas where dealers will need to devote time and resources in the coming years.
But in addition to those topics, Tam also says ACT's study indicates consolidation is likely to be huge driver of change throughout the trucking industry over the next decade. Though in the dealer market in particular, Tam says consolidation may remove less rooftops than some might guess.
"Our best effort and analyze the market would suggest by 2027 we are looking at 10 percent reduction in the number of rooftops," he says. Tam also adds it's likely OEMs may push consolidation of some venues but push for greenfield locations in other areas to better cover the market and remove their "white space on the map."