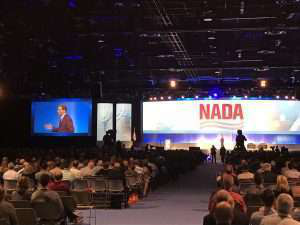 Believe it or not, there was a time in Nick Saban's life where he considered a career in the automotive and transportation industry. It was way back in the day, when as a youngster he would help his father in the service station the elder Saban operated.
Football and fate would eventually pull Saban away from the service bays and greasy fingernails of his youth, but during a keynote address Friday at the National Automobile Dealers Association (NADA) and American Truck Dealers (ATD) 2018 Show in Las Vegas, Saban says he still looks back fondly on his time in the shop with his dad.
And while many might think what Saban does now to be considerably different than running a service shop or dealership, Saban disagrees. He says it doesn't matter if you're competing for national championships or trying to sell vehicles, the skills required to be a successful leader are universal. You have to be driven, focused and prepared, yes, but most of all, you have to be able to motivate those around you to strive to be their best.
"Leadership is affecting someone else for their benefit," Saban says. "It's making what they do about them and showing them how" what they do each day will ultimately benefit them. "When you try to affect someone else for your benefit that's manipulation and people see right through that."
Saban says a lot is said and written about his "process" and how he leads his football program at the University of Alabama. He understands the interest — the Crimson Tide have won five national championships in nine seasons — but says if you come see an Alabama practice you'll quickly realize it's not much different than any other program in college football. The Tide have a goal, and every day they're working toward it.
"Process to me is a definition of what do I have to do to accomplish the goal that I have," Saban says. "I don't care if you want to climb Mount Everest or lose ten pounds. What do you have to do to achieve that goal?"
Saban says the aspect of process that trips up most people isn't meticulous planning or scheduling. It's not long-term strategy. He says processes that fail are almost always due to a lack of discipline.
"Here is something I know I'm supposed to do that I really don't want to do, and here is something I know I'm not supposed to do that I really want to do," Saban says. "Everyone knows that feeling where you have to make that choice." He says discipline is crossing that bridge, committing to what is right even when it's hard.
Saban says good leadership absolutely requires self-discipline, and the ability to set a good example for those around you. He says that's what he practices each day at Alabama. He believes he wouldn't be able to relate to players and his staff if he wasn't living up to same standards they have set for themselves.
"Do as I say, not as I do, I don't really believe that," he says.
Finally, Saban says when working with players or employees, it's important to make sure goals are defined for individuals. At Alabama, he says players' goals range from being a first-round NFL draft pick or All-American to setting a personal best during a game or a practice. Yes, the Crimson Tide want to keep winning national titles, but Saban says he believe they are most likely to accomplish that by having everyone performing at their individual best.
"If everyone plays like NFL players, we'll win the title," he says.