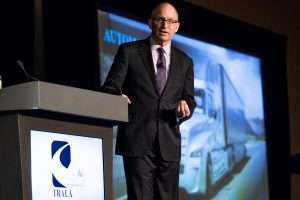 Volatility in the new truck ordering cycle and the impact it has on the supply chain is one of the biggest challenges facing OEMs today, Roger Nielsen, president and CEO at Daimler Trucks North America (DTNA) said Tuesday during an industry update at the Truck Renting and Leasing Association (TRALA) Annual Meeting in Scottsdale, Ariz.
Speaking on the current status and future of the heavy-duty truck market, Nielsen says DTNA is optimistic about order builds for the remainder of 2018 — the company is pushing its Class 6-8 new build projection out to 440,000 units for the year — but says as trucking further distances itself from the slows of 2016 and 2017, it is becoming harder for truck makers to acquire all of the components necessary to build a new truck in a timely fashion.
He mentions tiny multi-layer ceramic capacitors, used for power and safety systems in a commercial tractor and key for cordless smartphone chargers outside of the industry, as one product where "we are competing for different components we didn't have to compete against in the last peak market."
When it comes to shortages, Nielsen also mentioned the struggle OEMs are having in filling every position on their assembly lines. He says increased customer demand is a great problem to have, but with nationwide unemployment around 4 percent (and just 1 percent in Mexico), it is becoming increasingly harder for truck makers and component suppliers to keep their lines running at 100 percent capacity. Nielsen says DTNA is paying overtime to a lot of its production workers right now to keep the line moving, but he acknowledges "you can't do that forever" because employees get burned out.
Moving away from the immediate topic of 2018 production, Nielsen also touched on the topics of automation, connectivity and electric vehicles during Tuesday's address.
Regarding automation, Nielsen says DTNA prefers to discuss "automated" vehicles and not "autonomous." He gives two reasons for this: The industry still desperately needs drivers and driverless trucks is a terrible sales pitch; he doesn't believe full Level 5 automation is coming for the trucking industry in his lifetime. Nielsen says when people see a driverless prototype tractor drive down a road today it's traversing a route that's been mapped meticulously thousands of times. Every tree, crosswalk and lane change has been recorded. The route is a closed environment, and one created specifically for that vehicle's success. Mapping a on-highway truck takes a lot more that that.
He jokes, "We are trying to go from San Antonio to San Bernardino, 1,300 miles, are we going to start mapping every cactus and telephone pole?"
But Nielsen is quick to point out that the push toward automation is still a good thing on the whole because it increases the rate and scope of driver-assist technologies being introduced in the market. He says OEMs are eager to add as many of these technologies as possible because of fleet demand and the industry's constant desire to improve on-highway safety.
Nielsen says advanced safety systems also provide more opportunities to capture data on vehicle performance, which DTNA believes to be the future of the industry. Nielsen says the company believes "100 percent of trucks should be online 100 percent of the time." Additionally, he says that at some point in the near future OEMs may be able to install a single ECM on a tractor that will function like a smartphone. All standard advanced technologies will operate though that single unit, with additional technologies also being added to the same unit like new apps being downloaded to a phone.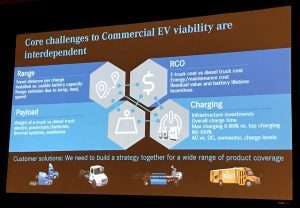 Finally, on the topic of electric trucks and alternative fuels, Nielsen sees good things ahead for one fuel but challenges ahead for full electrification. He says DTNA is "still really positive on CNG" and plans to continue driving forward in that area with new models and vehicle configurations.
On electrification, he says industry interest is up, but there are still four key hurdles between large-scale adoption. DTNA lists them as range, payload, charging and RCO (real cost of ownership). Nielsen says if every Class 8 tractor on the road today was solely electric powered, "the North American power grid would need to increase capacity by 20 percent."