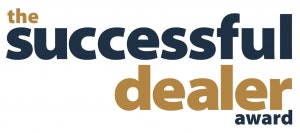 We have officially opened the nomination period for our seventh annual Successful Dealer Award.
Sponsored by Automann, Premium 2000/National Truck Protection and Interstate Billing, the Successful Dealer Award recognizes medium- and heavy-duty truck dealers for their positive influence on our industry and their communities.
CLICK HERE TO NOMINATE A DEALER FOR THE 2019 SUCCESSFUL DEALER AWARD.
We seek to recognize well-rounded, successful businesses, not simply high-performing ones. Nominees are evaluated based on their business success, customer service response and reputation, community involvement and outreach, civic responsibility, environmental initiatives, staff education and training, marketing and more. Each category is weighted differently but we assure you the Successful Dealer Award is not solely a sales award. The smallest volume dealerships have the same opportunity as the largest.
Additionally, our nomination process is simple, anonymous and open to the entire trucking industry. Which means if a dealership's marketing person or another employee wants to nominate their employer they can do so freely, without having to deal with the jeers of having "nominated yourself." Part of our judging criteria is centered on being a good place to work. If employees want to nominate their business on those grounds, we certainly welcome that. Our judging criteria is rigorous enough so that the highest merit will rise to the top regardless of who sends in the nomination.
Our nomination period will conclude on May 31 and we will announce our 2019 Successful Dealer Award finalists in June. Our winner will then be crowned at Randall-Reilly's RSquared event in September in Tuscaloosa, Ala.
CLICK HERE TO NOMINATE A DEALER FOR THE 2019 SUCCESSFUL DEALER AWARD.