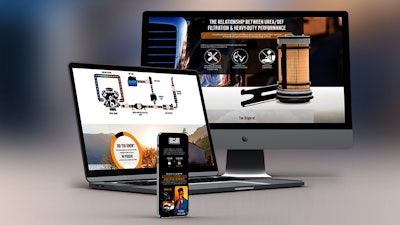 Luber-finer has added its ninth module to Luber-finer University, the filter company's free online education program for distributors, point-of-sale associates, and others who work in the heavy-duty industry.
Accessible from any internet-connected device, Luber-finer says Module 9 covers how Urea/Diesel Exhaust Fluid (DEF) filters function in concert with exhaust aftertreatment systems to reduce vehicle emissions in compliance with U.S. Environmental Protection Agency (EPA) requirements. It also explains why those involved in heavy-duty vehicle maintenance should pay closer attention to recommended change intervals.
"In some circles, the misconception still exists that these filters do not need to be replaced," says Jonathan Engels, senior director of sales, Commercial Vehicle, Luber-finer. "This module dispels that myth by highlighting all of the ways a clogged Urea/DEF filter can potentially cause problems for heavy-duty operators."
In addition to highlighting the problems of a clogged filter, the company adds Module 9 examines selective-catalytic reduction (SCR) technology, what can happen if DEF can't reach a vehicle's exhaust aftertreatment system, and the vehicle coverage Luber-finer's line of Urea/DEF filters provide.
Registering for Luber-finer University is fast and easy: enroll by filling out a simple online form at luberfiner.com/university.