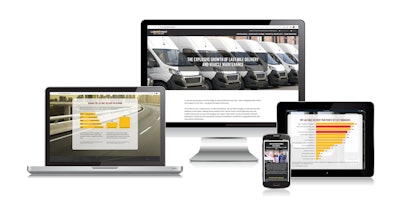 Luber-finer has added a new module to Luber-finer University, the filter company's free online education program for distributors, point-of-sale associates and others who work in the heavy-duty industry.
Accessible from any Internet-connected device, the company says Module 8 educates users about the growing last-mile delivery segment among heavy-duty fleets and the critical role filters play in maintaining light-duty cargo vans and medium-duty trucks.
"With the rapid growth of last-mile delivery, it was clear we needed another module highlighting the addition of these vehicles to heavy-duty fleets," says Jonathan Engels, senior director of sales, Commercial Vehicle, Luber-finer. "The filtration needs for this market segment are vast."
Module 8 provides an engaging, interactive experience highlighting popular last-mile vehicles, filter replacement intervals and Luber-finer's line of last-mile filters, the company says. The module also covers why last-mile delivery is expected to continue to grow in the years ahead, how driving conditions impact filter life and the top pain points of last-mile fleet managers.
The company adds registering for Luber-finer University is fast and easy. Users can visit luberfiner.com/university to enroll by filling out a simple online form.