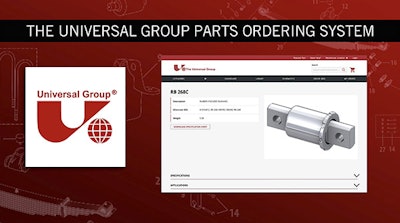 In an ongoing effort to provide superior products and service to help their customers, The Universal Group has recently released a series of helpful videos that step through its new e-commerce website.
The Universal Group has developed seven videos for the series, each of which explain and demonstrate the many useful features and tools that the company has built into its website to make customers' visits to the website more efficient and productive.
One video released includes a demonstration of The Universal Group's schematic parts search feature, which lets a user view a schematic diagram of all of the parts in a suspension assembly. Programmed for interactivity, the company says as a user rolls their mouse over the visual representation of the parts in the schematic diagram, details about the part are revealed in real time with pricing and part numbers and the user can simply add the parts to their shopping cart. Said customer Jeannie Lay, vice president at Allied Spring and Suspension in New York, "I think my favorite part is being able to order from the schematics page itself. It is great to be able to identify the part that you need on the actual schematic and not have to get out of that page to order the items. It definitely saves a lot of time!"
The Universal Group says a customer using the schematic search to find a certain replacement part to do a repair job also will see all the other attaching components in the suspension assembly, and these may easily be ordered as well.
Another helpful feature that is documented via video demonstration is the Quick Order Pad. This little but powerful tool allows customers to enter a part number or a partial number, or even a competitor's part number or part description, and submit items and quantities quickly and efficiently cutting down ordering times significantly. The Universal Group says the Quick Order Pad is something that is unique for this market, and one of The Universal Group's innovations for the e-commerce site that the company feels will be most helpful for customers.
[RELATED: What a changing buyer demographic means for parts distributors]
"With this group of videos, we're hoping to help our customers get on with their day and get the parts they need fast. If we can help them succeed, we'll be successful too," says Annik Smith, president, The Universal Group.
Another customer, Billy Burkholder, owner, Ace Spring Service in San Antonio, Texas says, "They have thought of everything! Even a 62 year old Baby Boomer like myself found the site extremely user friendly and easy to navigate! It is chock full of features that I found easy to use and extremely helpful whether building an order or just researching for new items to stock."
Beyond the usefulness of these new videos for customers, The Universal Group also sees an advantage in terms of marketing. The company states it has seen some great success in using video to market products like its unique Flexiride rubber torsion suspensions. A few years back The Universal Group released its Flexiride video on YouTube and has seen its number of views reach more than 350,000.
"We're aware of the effectiveness of short video clips to bring our story to life. The success of our Flexiride rubber torsion axles video has been a revelation to us. In making these new helpful videos, we also wanted to create a shorter video to demonstrate our e-commerce system just for marketing purposes," says Smith. "So, it's really the best of both worlds. This is something for our customers to help them succeed, and then we also have a repurposing of some of that same content targeted at prospective customers so they can see how we are trying to make their lives easier and help them get the parts they need faster."
To access The Universal Group video library, go to https://www.theuniversalgroup.com/need-help.