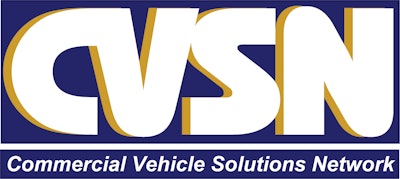 The Commercial Vehicle Solutions Network (CVSN) held its first monthly technical training webinar with Cummins-Meritor Tuesday.
The webinar addressed Cummins-Meritor's driveline products and was led by the company's Jessica Eaton. Eaton started the event by providing an update to the aftermarket audience of Cummins-Meritor's OEM market share in the driveline sector.
Eaton says Cummins-Meritor's MXL product is standard with two truck brands and optional with a third. The company's RPL product also is standard with two brands and available as an option from three others. With that much OEM acceptance, Eaton says Cummins-Meritor estimates its OEM market share as approximately 60% of the Class 8 market as of 2023.
[RELATED: Distributor Training Expo earns high marks once again]
From there, Eaton highlighted the differences between Cummins-Meritor's driveline products, and essential information technicians and aftermarket salespeople must know to service customers accurately in the market.
Eaton also highlighted the company's Driveshaft on Demand program, which enables customers to order any driveshaft (Meritor or Dana part numbers) and have the product shipped within 24 hours. Eaton says this program is a vital resource for Cummins-Meritor distributors and ensures them they can support any aftermarket customer quickly when in need.
Most questions during the webinar addressed the Driveshaft on Demand program as attendees were eager to understand how to use the system properly, how pricing is set and more.
Interested CVSN members who registered but missed the webinar should receive a link to the video and copy of Eaton's slides in the days ahead. Members who did not register for the webinar or distributors who are not CVSN members but would like access to the webinar materials are encouraged to contact CVSN staff.
CVSN's technical training webinar series will return in August.