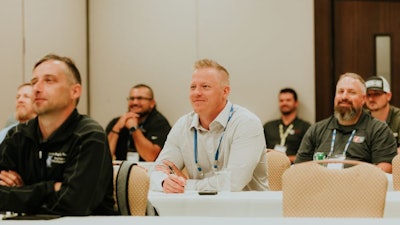 Commercial Vehicle Solutions Network
The Commercial Vehicle Solutions Network (CVSN) held another wonderfully well received Distributor Training Expo earlier this month in Atlanta.
Attended by more than 170 distributor sales professionals, 16 suppliers and the industry's two buying groups, the Distributor Training Expo (DTE) is the only annual training event that enables vendors to train their distributor partner's field sales professionals with classroom and in-person booth instruction at a single time. The DTE also enables distributor operations to have their best sales associates receive expert product instruction from a wide selection of key vendors in a single weekend, maximizing their investment and reducing the amount of time their associates are away from their business.
Always a positive experience for distributor and vendor attendees alike, this year's event was held July 7-9. In a post-event survey before departures, the event earned a satisfaction rate in the 90th percentile, and a near unanimous response from attendees who said they would recommend the event to colleagues.
The survey also uncovered an overwhelming majority of attendees would attend the Distributor Training Expo again, good news for CVSN organizers who will move the event to Dallas in July 2024.
[RELATED: CVSN gives back, gets active and recognizes industry leaders at 2023 Summit]
"We were very pleased [by participant reception], especially considering the week we chose," said CVSN Executive Director Edward Kuo. "Pretty much all of our feedback fell in the good to excellent categories and that's what you want to see."
For the vendors who attended, this year's DTE proved a wonderful setting to convey important new product and company information. PHINIA prioritized both, said Senior Regional Sales Manager Nick Chelman. PHINIA is the new company serving the aftermarket and fuel systems segments that was spun off from BorgWarner last week. Chelman says this year's event enabled him to meet with distributor partners and provide essential training on new and existing Delco Remy products while also sharing updates on the company and its future vision.
"We wanted to inform everyone of our new company PHINIA and make them aware that there will be no changes to the Delco Remy product line," he said. "I certainly believe we succeeded in our efforts. DTE was a great event for PHINIA. We had excellent attendance and engagement both at our classroom trainings and at our trade show booth."
Distributor attendees were equally appreciative.
CommPar's Ryan Carey, who was attending the event for the first time, said he had heard goods things about the event in the past and was glad he finally got the opportunity to participate. He said his two favorite experiences were the classes and the expo itself. Carey said he "enjoyed the face to face with the vendors, as well as getting to know the products a little better."
"It's a fun experience from start to finish," he added. "I recommend engaging whenever possible. Ask questions, gather as much information as you can."
[RELATED: In-cab comfort matters to truckers; sell them solutions]
Kuo said that ability to learn a lot in such a short time cannot be overlooked. For distributors hungry to bolster their sales organizations or get new associates up to speed on the aftermarket quickly, there's no substitute for what the DTE experience offers.
"It's a unique experience. The vendors get to touch [distributor] salespeople who are at that point in their careers where they want to learn about product and are willing to sacrifice a weekend in the summer to sit in a classroom and attend a trade show and learn," he said. "With everything we hear in this industry about how important it is to have strong employees — DTE is the one venue where you can send them and they can be with their peers and learn."
Carey agreed. "I would definitely recommend it to anyone. It's not just a getaway for a weekend, but a good learning experience as well."
"In the commercial vehicle world there is no replacement for in-person, hands-on training," added Chelman. "We have found a very effective way to strengthen our aftermarket sales business is by meeting with our partners face to face in an open and friendly environment like DTE. We are able to provide education on our company and product line as well as build stronger relationships with our distributor partners which is a foundation for growth."