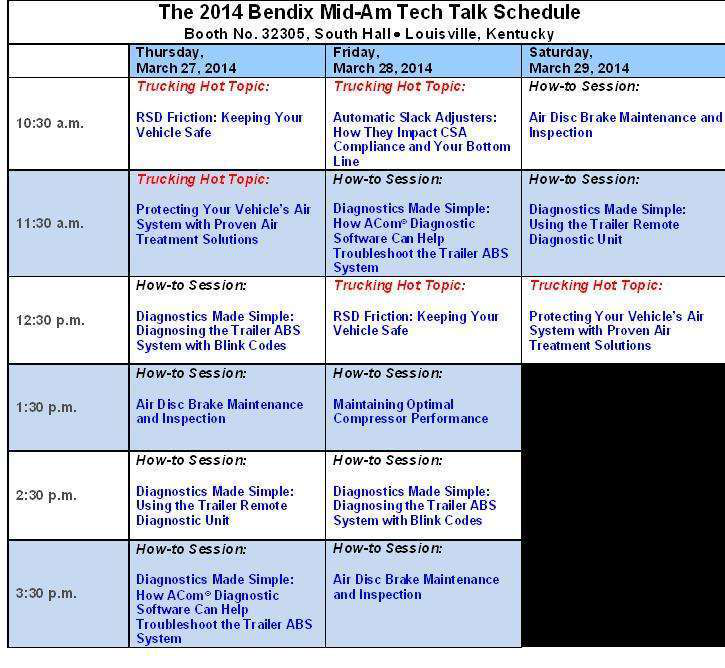 Bendix announces Mid-America Trucking Show (MATS) attendees looking to sharpen their truck preventive maintenance skills will benefit from attending the 2014 Bendix Tech Talk Series at this year's event.
In its fourth year, the popular Tech Talk Series features Bendix product and service experts offering how-to demonstrations, interactive question-and-answer sessions, and discussions of the issues and technologies shaping the commercial vehicle industry, the company says
The 15-minute Tech Talks, open to all show attendees, begin at 10:30 a.m., Thursday, March 27, and extend through the final session scheduled for 12:30 p.m., Saturday, March 29. All 15 scheduled Tech Talks will take place at Bendix's booth, No. 32305, in the South Hall.
The Bendix Tech Talks address a variety of subjects, including top-of-mind topics such as keeping your vehicle safe with RSD friction; how automatic slack adjusters impact CSA compliance and profitability; and air disc brake maintenance and inspection techniques.
"In each 15-minute session, vehicle operators can hear from the experts and ask the questions important to them. With a mix of trucking hot topics and how-to sessions, what they learn can help their bottom line, whether they are drivers, fleet operators, OE reps, or maintenance technicians," says Barbara Gould, Bendix director of communications. "The industry is constantly changing, from advanced technologies to government regulations, and people from every corner of the trucking business can help themselves stay educated and informed through the Tech Talks."
Shortly after the close of the show, the Bendix Tech Talk sessions will also be available as a part of the growing curriculum on brake-school.com, the on-line training site from Bendix.