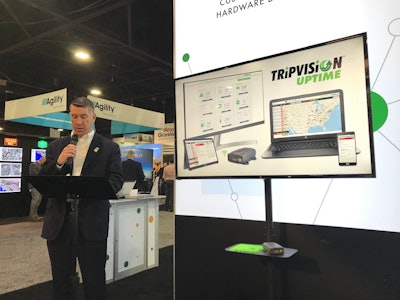 Noregon made news at ATA's Technology & Maintenance Council (TMC) Annual Meeting Tuesday in Atlanta with the announcement of its newest update to JPRO and the introduction of TripVision Uptime.
Regarding the latter, Noregon CEO Tim Bigwood says TripVision Uptime is an improvement over the company's current real-time fleet asset management solution, TripVision. Available from Noregon as a standalone service, Bigwood says TripVision Uptime runs using a proprietary ND2 hardware device installed on a vehicle. The company says the ND2 does not interfere with telematics hardware but does offer users the ability to remotely clear fault codes, modify parameters such as max road and cruise speeds or idle shutdown times, and launch bi-directional tests including forced DPF regens and ACM resets.
As for JPRO, Bigwood says this year's first update to JPRO Professional boasts an expanded list of industry-leading bi-directional controls for many components on medium- and heavy-duty vehicles. This includes new diagnostic exercises to better illustrate JPRO's capabilities and present users with common issues seen on heavy-duty vehicles.
Using the Virtual Truck tool within JPRO, Bigwood says users can now simulate the tool's advanced capabilities without connecting to a truck, making it an ideal solution for product evaluation or for students and technicians aiming to improve their skills away from the classroom or shop environment.
He says the update is available now, with update prompt information being displayed to JPRO users when connected to the internet.
Noregon expands tech school support
Finally, Noregon also announced Tuesday more plans regarding its education initiative to promote heavy-duty technical careers.
Says Bigwood, "We are extremely excited to announce Noregon's Educational Program, which will equip colleges and diesel programs with JPRO and NextStep while giving students licenses for JPRO's Virtual Truck to enhance their skills while away from the classroom. Further, it is my honor to announce the creation of a scholarship fund that will help students reach their dreams of going to school and becoming a technician."