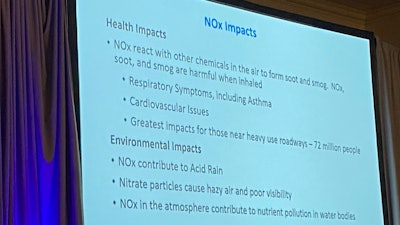 Emission regulations remained at the forefront of the 2022 TRALA Annual Meeting Tuesday with a business session featuring EPA Deputy Associate Administrator Alejandra Núñez.
Focusing on EPA recently proposed rulemaking for 2027 and beyond, Núñez says the EPA and the Biden Administration are committed to reducing NOx emissions and creating a cleaner environment for Americans. "Our goal is to deliver significant public health benefits," she says.
Núñez says the EPA has developed two sets of proposed regulations that it believes are both achievable for commercial transportation and will move the government toward its 2050 clean air goals. She says the more stringent of the two proposals could offer many substantial health benefits for Americans between 2027 and 2045, per EPA calculations, including the elimination of $250 billion in healthcare costs, and annually between 860 and 2,100 fewer premature deaths and the reduction of 18,000 cases of premature asthma onset in children.
And Núñez says the EPA believes the trucking industry can evolve to meet those calculations.
EPA data indicates on-road heavy-duty trucking accounted for 32.6 percent of U.S. NOx emissions in 2016. The agency's new proposal seeks to reduce that influence by driving NOx emission levels to microscope levels (both in on-highway driving and idling and urban applications), extending useful life periods in which new equipment is required to meet evolving regulations and extend warranty periods to motivate customers to adopt these new technologies.
Núñez says the EPA's proposed standards would be 90 percent lower in 2031 than today's standards for NOx emissions.
The EPA will hold public forums and accept public comments on its proposed rules throughout 2022 before finalizing its rulemaking in December. Núñez also notes the agency intends to develop a proposal for light- and medium-duty trucks for model year 2027 and beyond, as well as Phase 3 greenhouse gas (GHG) emission standards in the months and years ahead.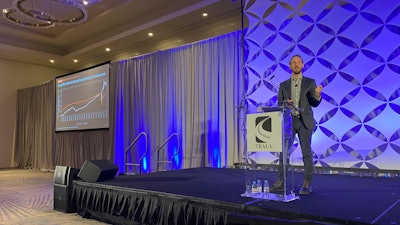 Tuesday's business sessions also included an economic update by Aaron Terrazas, director of economic research, Convoy, who detailed the impact rising inflation is having on the current economy and tactics the Federal Reserve, businesses and consumers have in managing rising prices.
Terrazas says financial futures are predicting up to eight Fed interest rate hikes in the next two years, including "at least two rate hikes of 50 basis points or more," which would be a rarity for the U.S. economy. But with prices rising faster last year than at any point since 1973, something does need to be done to address the market's sudden shift.
Terrazas says he doesn't believe a downswing in the freight market over the last month is solely due to inflation, nor does he believe the market is on the cusp of a seasonal bust — "it's a little premature to make that call," he says. But he does acknowledge that while March is typically a weaker month for freight levels, a continuing slump throughout the spring would be concerning.
[RELATED: Trucking economists ponder impact of Russia's war with Ukraine]
Terrazas also notes it's probably time for carriers to abandon any hopes that an inventory boom will drive freight as the supply chain continues to normalize. He says the pandemic driving more consumers toward e-commerce means retail inventory levels are likely not going to return to pre-2020 levels.
But he does note the war in Ukraine could have a positive impact on freight if it continues and the international food supply becomes more reliant on North American exports. Yet even if that occurs, how much of a bump the market would gain remains to be seen. Terrazas says most of the western U.S. is currently facing drought conditions.