Another entrant has joined the effort to decarbonize the trucking industry.
ClearFlame Engine Technologies, which plans to take "diesel fuel out of diesel engines," recently announced partnerships with engine manufacturer and assembler Reviva and engine installer Vander Haag's to bring its revolutionary agnostic engine platform to the heavy-duty truck engine market.
ClearFlame is the brainchild of co-founders BJ Johnson and Julie Blumreiter, who devised the company's engine platform as graduate students at Stanford University. Johnson says the pair were drawn to trucking space after seeing the challenges legacy OEMs and new market entrants were experiencing in trying to bring cost effective stability to decarbonization through battery electric vehicles and other alternative powertrain solutions.
"EVs and hydrogen [fuel cell] have been the talk in trucking for a while now," Johnson says. "I think we're starting to see that where EVs work, they tend to work pretty well. But we're also starting to see where they don't work."
By focusing on those duty cycles, such as conventional long-haul applications where liquid fuels remain market leaders, Johnson says ClearFlame hopes to introduce a decarbonization solution that doesn't come at a "green premium."
The company's technology is advanced but Johnson describes it in simple terms.
By removing and replacing approximately 10 to 15 percent of components from a conventional diesel internal combustion engine (ICE), ClearFlame can create an engine capable of running on ethanol, methanol and other cleaner burning natural fuels as opposed to fossil fuels, reducing emissions without sacrificing performance and at a fraction of the cost of wholly new alternative powertrain.
[RELATED: Cummins says agnostic engines will increase sales opportunities, reduce maintenance complexity]
Johnson says the biggest changes to the engine are replacing the fuel injectors — the new engine requires injectors compliant with alcohols — removing the EGR cooler and adding components to protect against higher temperatures and installing a proprietary engine control module to make sure the transformed engine runs properly.
Johnson says the result is an engine that to the driver will perform no differently than it did before, only require a different fuel be added to the tank.
"We are maintaining what is good about the diesel-powered truck without the emissions that come from diesel," Johnson says.
Early reviews of the technology are positive.
An independent study of the technology recently revealed ClearFlame-equipped vehicles are estimated to provide a 42 percent lifecycle carbon reduction compared with diesel, as well as approximately 22 percent lower GHG than battery electric vehicles based on the national average grid mix. The study also reported ClearFlame's cost per mile is expected to be 40 percent less than electric and 30 percent less than hydrogen.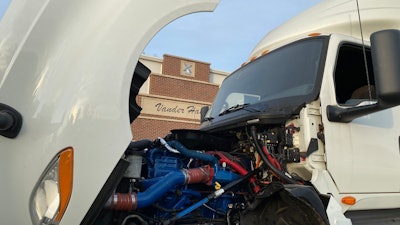 Johnson says ClearFlame began customer pilot demonstrations in June and hopes to receive Environmental Protection Agency (EPA) regulatory approval for the technology next year. If ClearFlame's timeline remains intact, Johnson is hopeful the company will begin signing fleets and retrofitting equipment as early as 2024.
He adds if the company is successful grabbing market share in those first years, hopefully "OEMs will see the market signal that decarbonized fuels are a pathway to a sustainable future."
That sustainability was a draw for Vander Haag's, says Eric Krikke, general manager.
[RELATED: Engine brakes are changing to meet needs of wide variety of engine types]
"Prior to us learning about ClearFlame, new technologies that were talked about to decarbonize the diesel industry — such as EV, hydrogen and natural gas — all require some major obstacles to overcome. Things like fueling infrastructure, tech training, operator training, parts distribution just to name a few," he says. "However, ClearFlame's technology can utilize current infrastructure for fuel distribution as well as existing parts distribution and repair facilities."
Johnson adds that parts and service consistency is another benefit. Service technicians maintaining ClearFlame-equipped engines will already be familiar with 80 percent of its components, which will reduce the learning curve in understanding the new equipment — a belief Cummins also shared when introducing its own agnostic engines earlier this year.
"Our partnerships with Reviva and Vander Haag's demonstrate that we can move extremely quickly to seamlessly capitalize upon the existing ecosystem of engine remanufacturers and more than 250,000 mechanics who already service diesel engines today in the U.S. with no need for additional infrastructure investment, special tools or complicated training," adds Blumreiter.
And ClearFlame also will serve as a quick to market solution. Johnson says a truck owner who requests their own engine be individually overhauled and rebuilt by Reviva with ClearFlame components may need to budget some downtime for a transition, but Krikke says a straight engine swap out will be performed in Vander Haag's shops in just 10 days.
"If we're able to pull off what I know we can pull off, I think we can show how we can move [trucking] toward sustainability in a practical way," Johnson says.