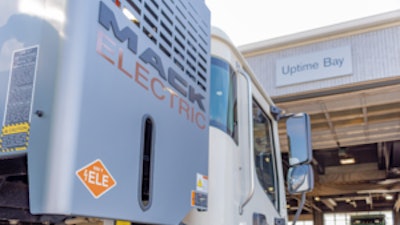 Ballard Truck Center in Tewksbury, Mass., is now a Certified Electric Vehicle (EV) Dealer and is equipped to service and support the Mack LR Electric and Volvo VNR Electric, the OEMs announced Thursday.
Ballard Truck Center is first Volvo and Mack dealership to be EV-certified in Massachusetts.
"Ballard Truck Center is another example of a dealership that is committed to support both diesel-powered and battery-electric vehicles," says Jonathan Randall, Mack Trucks senior vice president of sales and commercial operations. "Mack and Ballard are committed to helping customers achieve their sustainability goals, and we congratulate Ballard on this milestone."
[RELATED: Mack and Volvo showcase new tech training center]
"Expanding the Volvo Trucks Certified EV Dealer network to New England is another key step in developing the full support system needed for widescale Class 8 truck electrification to succeed," adds Peter Voorhoeve, president, Volvo Trucks North America. "We congratulate Ballard Truck Center for being the first dealership to complete the training program in Massachusetts — making it the eighth U.S. state to have one or more Volvo Trucks Certified EV Dealerships — and commend their team's unwavering commitment to customer satisfaction."
Ballard Truck Center, located at 939 East St. A, Tewksbury, offers 11 service bays, one of which is dedicated to servicing electric vehicles. The Tewksbury branch has 11 technicians, four of whom are master techs, and three of whom are EV-certified. The 31,000 sq.-ft., branch has $1.5 million in parts inventory.
Mack and Volvo notes dealers must meet numerous stringent infrastructure, training, safety, charging and tooling requirements to become a Certified EV Dealer. The OEMs met regularly with Ballard executives to ensure a smooth process and that all standards for EV certification were met.
"Ballard wanted to be sure that we were ready to accommodate our customers for when they choose to purchase an electric vehicle," says Robert Picking, head of business development, Ballard Truck Center. "Customers have expressed a lot of interest in electric vehicles, and the Mack LR Electric in particular, and we look forward to supporting these customers in the future."
He adds, "Ballard Truck Center has been keeping New England rolling for more than 100 years, and we have continued to adapt and expand our business to meet the evolving needs of our customers. Becoming Massachusetts' first Volvo Trucks Certified EV Dealership is a prime example of the company's customer-first mindset, and we are excited to now also be able to provide the support and experience needed for customers with their zero-tailpipe emission transportation goals."
Ballard Truck Center, a fifth-generation family-owned business, was founded in 1906 as a blacksmith shop. Ballard Truck Center has five branches in Massachusetts – Tewksbury, Avon, West Springfield, West Wareham and Worcester. Ballard also has a location in Johnston, R.I.