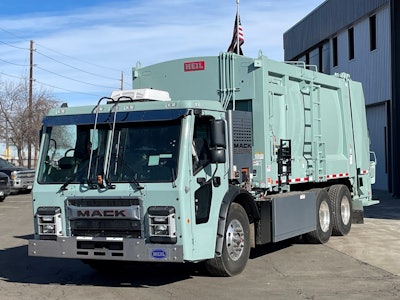 Bruckner Truck Sales in Commerce City, Colorado, is now a certified electric vehicle dealer for Mack Trucks.
It will now be able to service and support the Mack LR Electric refuse vehicle and is the first Mack dealer in Colorado to receive the certification status.
"Bruckner's sought EV certification because we believe the future of electric vehicles is bright," says General Manager Bodee Avery. "As the technology evolves, we are dedicated to staying on the cutting edge of it and leading the trucking industry in our efforts."
Bruckner's has 36 service bays with one dedicated to electric vehicles. Of the 26 technicians in Commerce City, 12 are master techs and two are EV certified. Bruckner's in Forth Worth, Texas, was certified last year and four other locations are working on certification.
"By becoming EV certified, Bruckner's has shown its commitment to the evolving needs of Mack customers and the industry," says President Jonathan Randall, Mack Trucks North America. "We look forward to working with them as we continue to help customers meet their sustainability goals."
Avery says that a number of customers have Mack LR Electric refuse vehicles on order and more customers are asking about electric vehicles.
"There are a number of beneficial grants and programs available in Colorado that have provided a stimulus to growing EV activity," Avery says.