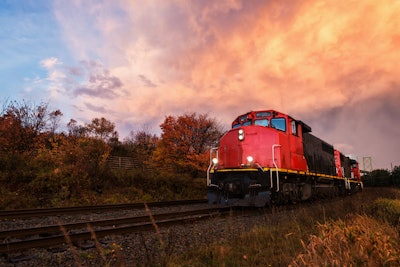 Railroad unions split on a Nov. 20 vote on approving a labor agreement with U.S. railroad operators, which could mean a holiday season railroad strike. 
The Brotherhood of Locomotive Engineers and Trainmen, BLET, accepted the tentative five-year collective bargaining agreement. The transportation division of the International Association of Sheet Metal, Air, Rail, and Transportation Workers, SMART-TD, itself split on the vote as well. Train and engine service members rejected their proposed contract while yardmaster members voted to accept.
Eight of the 12 unions, plus part of SMART-TD's membership, have agreed to the contracts, which were, in part, brokered by the White House. The deals provide employees with a 24 percent wage increase over five years and preserve health care coverage as-is. 
BLET has said it will not break a picket line by SMART-TD or any of the other rail unions.  
"We stood shoulder-to-shoulder with our brothers and sisters in SMART-TD and others in rail labor throughout this process," says BLET President Dennis Pierce. "We will continue to stand in solidarity with them as we approach the finish line in this round of negotiations."
This fall, federal intervention prevented one strike. The earliest a strike could begin this round is Dec. 5, when the Brotherhood of Railroad Signalmen could go on strike. SMART-TD could strike as early as Dec. 9, or the rail carriers could lock the workers out. 
The White House says all parties involved should continue to work to avoid a strike in this round of negotiations as well.
"As the president has said from the beginning, a shutdown is unacceptable because of the harm it would inflict on jobs, families, farms, businesses and communities across the country," says White House Press Secretary Karine Jean-Pierre at a Nov. 22 briefing. "A majority of unions have voted to ratify the tentative agreement, and the best option is still for parties to resolve this themselves. And that's what we're going to continue to call for. We think that they should move forward in good faith and get this resolved."
U.S. Secretary of Labor Marty Walsh is engaged in the negotiations, Jean-Pierre says.
"Our focus is going to make sure that we continue to protect American families," she says. "We're going to continue to call on all sides to move forward in good faith and come to the table and make sure that we avoid a rail shutdown."
In September's threat of a strike, the American Trucking Associations called on Congress to help resolve the dispute.  
"Idling all 7,000 long-distance daily freight trains in the U.S. would require more than 460,000 additional long-haul trucks every day, which is not possible based on equipment availability and an existing shortage of 80,000 drivers," says ATA President and CEO Chris Spear. "As such, any rail service disruption will create havoc in the supply chain and fuel inflationary pressures across the board." 
This time around, carriers may be better prepared than in September. 
"Today, demand is softer and the spot market is even more oversupplied with trucks," Dean Croke, principal industry analyst for DAT Freight and Analytics told CCJ. "A full-on strike would be a different story, though, and would be a polar vortex-level shock to capacity across the entire truckload freight market."