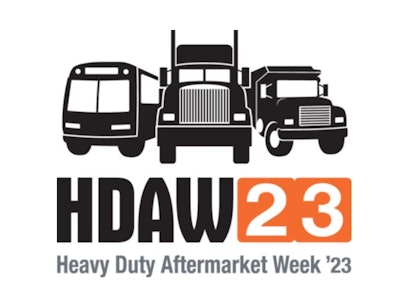 Robyn Spitzke, president of Fort Garry Industries, held a seat on the VIPAR buying group's board of directors. She wanted to focus more on her business, so she decided to resign her seat. As the only woman on the board, it was important to her that her place go to a woman.
Just one problem.
She couldn't find one.
"I'm disturbed to see there's not more women in leadership in our industry," says Spitzke. "It should've been easy to find someone and it wasn't."
Once again, VIPAR's board is all male.
"You would hope diversity would happen in this day and age and I don't think it is," she says. "In order to make it happen, there's going to have to be a push."
That push starts at Heavy Duty Aftermarket Week (HDAW) 2023 in Dallas with the HDAWomen reception and a SOLD! panel on women in heavy-duty parts and service.
"When you look at the industry, Robyn and I remember the first HDAW when there were probably less than 10 of us there," says Tina Hubbard, president of HDA Truck Pride, adding that it's one of the few conventions in the world where the ladies room line is short. "We need to do more to promote women in the industry." Hubbard said when she got her start in the heavy-duty world, she was working at Federal-Mogul. She listened to the heavy-duty sales representatives talk about their customers.
"Most of you golf and are good friends with your customers," she says. "But many of you don't know squat about our products and what's going to impact you in the future and the opportunities we have. Not that what you're doing is wrong, but maybe there's a different angle to this."
Hubbard finally went to her boss and begged him for a shot at heavy-duty. He told her there was no way in hell. She persisted until he relented, and never looked back.
"Hopefully, there have been enough of us to pave the way," Hubbard says. "We've done well. We've added females to the industry, we've added them to management roles, we've added them to leadership roles."
But there are still opportunities.
Cindy Barlow is the industry relations director at WyoTech, an automotive-diesel-collision school in Laramie, Wyoming. She's going to moderate the SOLD! panel at HDAW.
"I'm really excited an honored to moderate this conversation," Barlow says, which will include Bonnie Greenwood, a technician for FedEx and WyoTech graduate, and Jen Nedrow, from Betts Truck Parts & Service. "I hope the industry really takes advantage."
She's seen the overall awareness of women in heavy-duty trucking, parts and service change over the years. There's an awareness now, she says, that women can not only hold these traditionally male jobs, but also excel.
"There's always the pioneers that do the hard stuff," she says. "As women today in industry, we are blessed that we had strong women behind us that forged a path for all of us to follow."
Bonnie Greenwood now works for FedEx Freight.
"I have always loved math and science and wanted a career that was hands-on," Greenwood says. "After researching options, I found becoming a diesel technician would be a good combination of intellectual skills and hands-on labor."
Greenwood admits that, with no background in cars or farm equipment, she had some imposter syndrome as she started out. People are also surprised to see a women in the service bay.
"We as an industry and a society overall need to present this field as an option to all youth," Greenwood says. "I never doubted I could succeed as a diesel technician, and we need to make sure all girls and women do not have any reason to doubt their abilities in any field."
Jen Nedrow, of Portland, Oregon, doesn't doubt her abilities, either. Her technician adventure began when she was in her 20s. She was a waitress and bartender that wanted to go to college for her children's sake.
"I needed to go to college so my kids could have a role model," she says. Nedrow had a drag racing car and has always been in awe of engines, so she went to Eastern Idaho Technical College. She was the first woman to graduate the diesel program.
Since graduating, Nedrow worked for on Peterbilt and Cummins engines, as well as at a series of private shops before joining Betts Truck Parts. As part of the panel, she will talk about her 20-year journey as a woman in the heavy-duty industry.
"I've never given up through everything so my daughters and your daughters have a chance," Nedrow says. "Women don't make it in the field I've been in. And I know why because I've been through it."