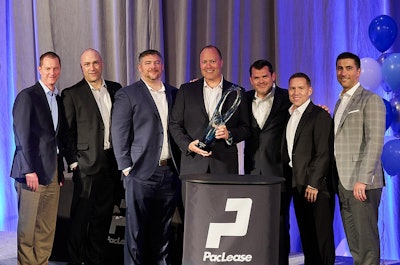 MHC Truck Leasing, with 32 locations in the Midwest and South, is PacLease's 2022 North American Franchise of the Year.
"They truly understand customer service -- growing their service and support staff by 30% in 2022," says Ken Roemer, president of Paccar Leasing. "And, they have invested heavily in their facilities and programs — including preparing for EV trucks — to ensure their customers are well taken care of now and into the future. They're the best of the best, and that's reflected in their high customer retention rate."
Palmer Leasing and Allstate Peterbilt Group were named U.S. Franchise of the Year for Kenworth and Peterbilt.
"Like MHC, Palmer Leasing has a long and distinguished history as a PacLease franchise," Roemer says. "They provide outstanding service, which has led to strong growth over the last several years. They also differentiate themselves by offering an extensive line-up of rental trucks, including dump trucks and tandems for vocational use. They have an excellent reputation in the market and are known for going above and beyond for their customers."
Palmer is headquartered in Indianapolis and has 12 locations. Allstate has 11 locations out of South St. Paul, Minnesota.
"This is no easy task, but Allstate makes it look easy," Roemer says. "Behind the scenes, there is a lot of hard work and diligence to customer service involved. The franchise group has a broad footprint through four states and they continue to invest in technology. They want to lead in their market, and they do. They were our first franchise to fully implement our voice-guided preventive maintenance program and in our latest National Account survey, they were rated as 'excellent' across multiple service categories. They were also one of our first franchisees to order a battery-electric Peterbilt medium duty truck."
[RELATED: TRALA panel addresses collection tactics]
Edmonton Kenworth, with locations in Edmonton and Calgary, is the top PacLease franchise in Canada.
"They operate out of stand-alone facilities to better control all aspects of customer service and vehicle maintenance, and their excellence continues from when they were named our North American Franchise of the Year in 2018," Roemer says. "They truly represent us well in Canada."