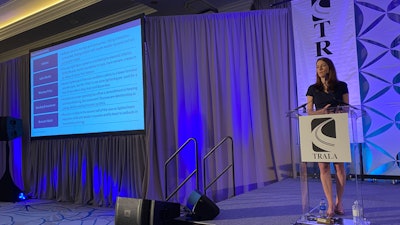 Are we heading into the best recession ever? ACT Research's Steve Tam says it's all in the way you look at it.
During an economic update presentation Monday at the Truck Renting and Leasing Association (TRALA) Annual Meeting in Bonita Springs, Fla., Tam and Wells Fargo's Sarah Moore discussed the possibility of a slowdown coming for the economy in 2023 and how to evaluate it against other recent recessions.
Moore says Wells Fargo is predicting a very mild recession beginning in the third quarter and lasting into first quarter of 2024. Tam says ACT's forecast indicates a slowdown happening sooner, likely beginning this quarter, with the economy picking up again in the final months of the year. He says ACT is now predicting very slight growth for the year overall, an improvement over its forecasts released last year.
Whether the year ultimately goes down as a recession won't be known until later, Tam says, though it is clear the economy has corrected from the insane post-COVID peak of 2021 and 2022.
[RELATED: TRALA panel addresses collection tactics]
He says that's why business feels so soft right now despite truck orders and freight rates remaining historically high. "We are comparing everything to the pinnacle of market performance."
Moore says similar comparisons are hurting the macroeconomy as well. She says the GDP growth rates experienced the last two years were unstable long term and were always going to lead to an inflationary period. She says the Federal Reserve's recent efforts to curb inflation are starting to work but the national inflation rate remains more than double what the Fed would consider ideal. Moore says that has put the Fed in a tight spot, as it needs to continue altering rates to drive inflation lower without crippling job growth or forcing consumers out of the market.
The good thing, Moore says, is a recession engineered by the Fed is unlikely to be as deep or long lasting as the pandemic-created recession in 2020 and the Great Recession in 2008 — the two worst American recessions since World War II. She also adds if the Fed does trigger a recession, they ideally also will "have capacity to re-stimulate the economy" and end it in a timely manner.
[RELATED: Dana CEO says 'partnership is the new leadership' as EV adoption rates grow]
Tam says what the Fed does will trickle down to the trucking industry as shippers alter their freight demands. He says there are still "an awful lot of reasons to buy new trucks" and says carriers who have been hungry for an influx of new equipment are unlikely to change their purchasing plans due to a bad quarter or two.
Tam does note, however, that ACT Research is expecting a large decrease in truck orders in 2024. Tam says the company's reasoning for that is two-fold — longstanding demand since 2021 is likely to finally supplied this year, and any reduction in freight levels in 2023 will likely not hit carrier business plans until 2024.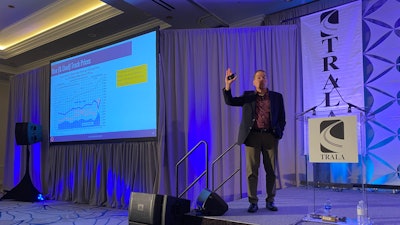 He says ACT Research data indicates North American Class 8 new truck production hit 315,000 units in 2022. This year the company is forecasting 312,000 units, and 256,000 units in 2024.
Tam also notes the trailer business will likely fair a little better, going from 306,000 units last year to 305,000 this year and 277,000 units in 2024.
"Sometimes when we have a slowdown in the investment in trucks the trailer market can say, 'Hey now you remember we're back here?'" he jokes.