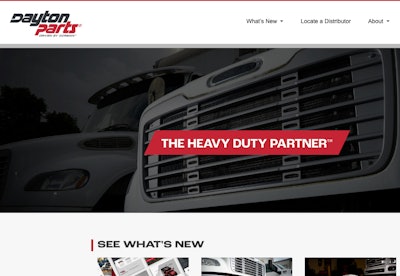 Dayton Parts launched a new DaytonParts.com website experience.
The company says it will deliver improved style, speed, security and search functionality.
"This updated site is a reflection of our commitment to helping our customers find the right solution quickly and keep trucks on the road," says Dayton President John McKnight. "The Dayton brand is already known for quality craftsmanship and with these enhancements, we aim to deliver on a great digital user experience as well."
Dayton says the new search experience is a highlight of the new site. Customers can use visual search and attributes to narrow down parts from Dayton Parts and Dorman HD Solutions.
"We have been working incredibly hard to combine the Dorman and Dayton heavy-duty catalogs and this represents another key step forward to ensuring all our customers have access to our expansive and always-growing portfolio," McKnight says. "I'm very proud of all the work done to get us to this point and look forward to continued improvements."