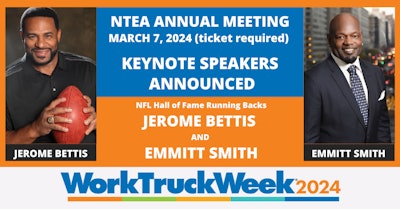 Two great NFL running backs, Jerome Bettis and Emmitt Smith, will team up for the NTEA Annual Meeting keynote address, NTEA announced Tuesday.
[RELATED: NTEA debuts Commercial Vehicle Market Report; showcases equipment population changes and purchasing outlook]
The Annual Meeting is part of Work Truck Week, which will be March 5-8 at the Indiana Convention Center in Indianapolis. It will include the Work Truck Show, Green Truck Summit, NTEA Annual Meeting, Ride & Drive, educational sessions and more. The Green Truck Summit will be March 5. Educational sessions will run March 5-7, and the Work Truck Show exhibits are March 6-8.
Registration opens in October.
Bettis and Smith's keynote will be a question-and-answer conversation moderated by Jason Ritchey, 2024 NTEA Convention chair and president and owner of Curry Supply Company.
"Jerome Bettis and Emmitt Smith reached the pinnacle of their first chosen career -- professional football -- and then went on to build successful careers off the field as well," Ritchey says. "From football to TV to business, I can't wait to hear their stories and prespectives. Maybe Emmitt will even share some dance tips he learned on 'Dancing with the Stars.'"
Bettis was drafted by the Los Angeles Rams in 1993 and, in his first season, was NFL Co-Rookie of the Year, Sporting News Rookie of the Year and the Rams' MVP. In 1996, he was traded to the Pittsburgh Steelers, where we won NFL Comeback Player of the Year. He went to the Pro Bowl six times and was named first-team All-Pro twice. He was the Walter Payton NFL Man of the Year in 2001 for his work with The Jerome Bettis Bus Stops Here Foundation that assists underprivileged inner-city youth. Bettis retired in 2006 after winning the Super Bowl with the Steelers. He was elected to the Pro Football Hall of Fame in 2015, has written two autobiographies and is a football analyst and host of the Jerome Bettis Show on WPXI in Pittsburgh. Bettis returned to Notre Dame to finish his education, graduating in 2022 with a business degree.
Smith is the NFL's all-time leading rusher. He was drafted by the Dallas Cowboys in 1990, spending 13 seasons with the Cowboys and two with the Arizona Cardinals. He returned to the Cowboys for one day in 2005 to officially retire with the team. Smith is the only running back to ever win a Super Bowl championship, NFL MVP, NFL rushing crown and Super Bowl MVP award in the same season. He was inducted into the College Football Hall of Fame in 2006 and the Pro Football Hall of Fame in 2010. Smith has companies that do business in real estate, construction, technology and renewable energy. He earned a bachelor's degree from the University of Florida.