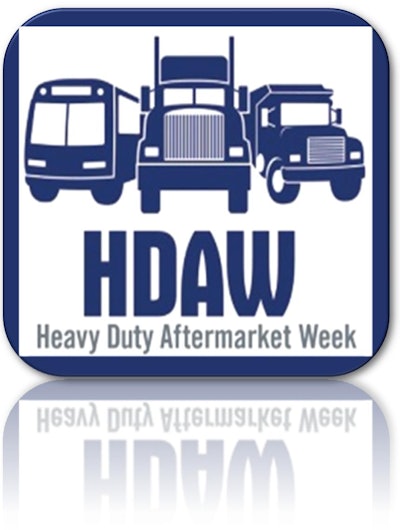 Buried in the middle of a widely productive an informative first day at the Commercial Vehicle Solutions Network (CVSN) Aftermarket Distribution Summit were updates for two very important and valuable upcoming events.
Who is ready to go back to Vegas?
Believe it or not, we're just four months away from Heavy Duty Aftermarket Week 2015. Next year's event is shaping up to be the biggest ever, and as the 10-year anniversary of the landmark event, the early schedule is impressive.
"We expect it to be bigger and better than ever," says John Bzeta, president at Fleet Brake and 2015 co-chair.
Speaking on behalf of the HDAW planning committee, Bzeta says next year's presentation is expected to have more than 600 exhibitors, two full exhibit halls (one dedicated specifically to tools is a new addition), nearly 2,000 one-on-one supplier/distributor meetings, countless hours of networking and educational sessions and, of course, all the Vegas entertainment you can handle.
With a theme of "Elevate Your Business," Bzeta says early registration numbers are strong. Interested parties can get more information on the week and sign up at www.hdaw.org.
Also on tap for next January in Las Vegas is Service Opportunities Learning Day (SOLD). Now in its third year, SOLD is being expanded into a two-day event set for Sunday Jan. 25 and Monday Jan. 26 at the Mirage before HDAW 2015.
Organizer Mike Betts from Betts HD says the event will feature four distinct educational sessions spread out over the two days focusing specifically on the heavy-duty service industry.
Business management, natural gas service and tools are just some of the topics that will be covered during the business event, Betts says.
SOLD literally sold out with maximum attendance in 2013 and 2014, and Betts says organizers have expanded capacity with hopes of doing the same next January.
More information on the SOLD program, as well as registration instructions, can be found at www.sold15.info.