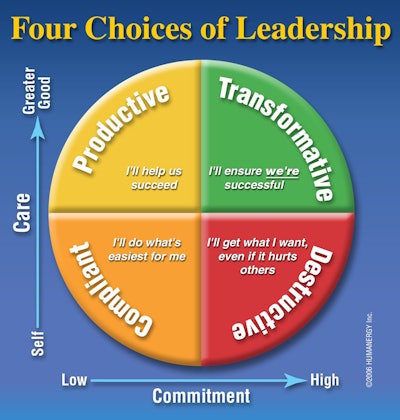 The average employee makes dozens of choices every day that impact the performance of his business. Typically large choices are strategized and agonized over while other smaller decisions are made instinctively.
But just because an employee doesn't give a decision much thought doesn't mean it doesn't matter.
An employee that agrees to carry a customer's part to his truck when asked is actively helping his business; in the same way another employee passively hurts the operation by not doing the same.
During a GenNext webinar Tuesday, David Wheatley of Human Energy spoke about these decisions as the power of choice — and the concept that every decision an employee makes shows a different commitment to leadership, and business success.
According to Wheatley, "Leadership is not about the rank you have (in a business). It is simply about the choices that you make that have an impact and influence on the people around you."
Wheatley says all choices can be organized into four categories: destructive, compliant, productive and transformative.
He describes the categories as follows:
Destructive: This is a decision made for the benefit of the decision maker and the decision maker alone, Wheatley says. Examples of destructive decisions are employees zoning out in meetings to surf the Internet, or refusing to read training materials recommended by management.
Compliant: This is passively ignoring or overlooking tasks, with the expectation that someone else will do the job, Wheatley says. He says a good example of this is an employee that passes a mess in a showroom but doesn't clean it up because it's "not his job." That decision negatively impacts the presentation of your business.
Productive: Wheatley says productive decisions are the first of two positive choice categories. Productive decisions are stepping up and helping when asked. Like the customer carry out example above, productive decisions occur when an employee shows a willingness to help in an area where they are not directly responsible.
Transformative: These are the best leadership decisions. Wheatley says a transformative business decision occurs when an employee actively works to improve the greater good. This is "going the extra mile," he says. Not every decision an employee makes will typically be transformative, but Wheatley says good leadership comes from making as many productive and transformative decisions as possible.
The presentation was lauded by GenNext President Steve Hansen.
"David Wheatley's presentation on leadership was terrific," he says. "He did an incredible job of promoting transformative and productive leadership styles over compliant or destructive styles.  I think everyone can relate to each of these leadership styles.  David was thorough in explaining each style plus coaching the best leadership choices."
For more information on GenNext and its educational webinars, please CLICK HERE.