The following comes from the January 2016 issue of Truck Parts & Service. To read a digital version of the magazine, please click the image below.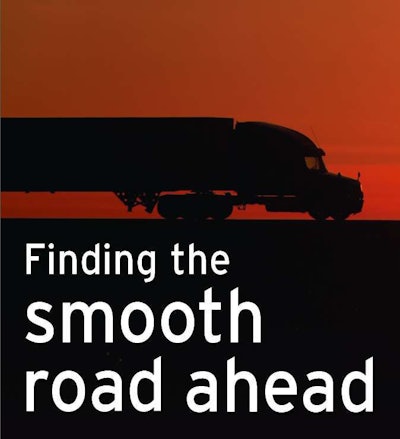 While it won't be remembered as the best ever, 2015 was a solid year for the heavy-duty aftermarket.
Buoyed by a still aging vehicle population and growing demand for service, more than two thirds of heavy-duty aftermarket professionals responding to a November 2015 Truck Parts & Service reader survey identified last year as equal to or greater than early projections, with even more (77.4 percent) rating the year as the same or better than 2014.
And yet, with the exception of an increasingly bullish service market, how aftermarket businesses performed individually was widely dependent on the product categories, customer duty-cycles and geographical areas they served.
A steady year by consensus, 2015 was filled with positive and negative trends.
As the aftermarket formally closes the books on last year and turns its attention to 2016, most are preparing for more of the same. Reaching the opportunities ahead for the aftermarket won't come without some ups and downs.
Undoubtedly the strongest facet of aftermarket operations in 2015 and beyond is service. Both dealers and independent service providers noted huge gains in the amount of customers served and total number of repair orders processed in Truck Parts & Service's November survey.
"We are backed up for days at times in our service department we have so much work coming in," says Marc Karon, president at Total Truck Parts. "And it's like that for almost everyone [in our area]."
Fleets have publicly professed a willingness to outsource more maintenance for years, and it appears those claims are finally becoming a reality.
"I think fleets are starting to be less willing to hang hard parts," says Don Reimondo, president and CEO at HDA Truck Pride. Citing advanced vehicle technology and electronics, Reimondo says aftermarket operations that offer proficiency in areas where fleet technicians are unfamiliar have a significant opportunity to acquire new business. "There is a profound opportunity there," he says.
VIPAR President and CEO Steve Crowley agrees. "Today's vehicles have a complexity that makes them more difficult to service than those of the past," he says. "Anyone who can provide expertise in the newer systems is in really good shape."
Another area proving to be a valuable aftermarket profit center is emission system and after treatment components. As fleets begin to sell their oldest DPF and SCR-system equipped trucks in the used marketplace, second- and third-generation buyers are resoundingly turning to aftermarket operations for emission related parts and service.
"The emissions side is really offering a lot of opportunities," says Greg Rawleigh, general manager at DeCarolis Heavy Duty Truck Parts. "We are just starting to get into it and it has really been great for us." Rawleigh says customer demand at DeCarolis for both hard parts and maintenance has been so great that despite operating no service bays, the N.Y.-based distributor now provides DPF cleanings at all of its locations. And customers are still looking for more.
"We still have limited access to that area, with only a few vendors providing entry level-parts," he says. "We are trying to find a supplier that has the full line of [after treatment and emission] parts we need."
That sentiment was shared by some Truck Parts & Service survey participants, as more than 10 percent of responders individually noted they have targeted after treatment and emission systems as a future growth opportunity.
"Customers want aftermarket solutions," says Don Sturdivant, FleetPride CEO. "The challenge moving forward for the aftermarket channel as technology evolves is being able to continue to update and reinvent aftermarket solutions that [the customer] needs. Emissions are a great example of that."
Specialization and product expertise served as other methods for comprehensive solutions in 2015.
Distributors who committed to education and training were overwhelmingly rewarded with improved customer relationships in 2015, Truck Parts & Service survey responders said. As such, most suppliers say they are working to provide even more educational opportunities for the aftermarket distribution channel moving forward.
"If you can train your distributors to know your product better than anyone else you can rely on them to support it," says Mark Christensen, national sales manager – Heavy Duty at Tenneco.
The same can be said for new products. Aware of the opportunity provided in specialization, distributors are hungry to get their hands on as many new parts and product lines as possible.
"Overall business in the commercial vehicle market is fl at on traditional portfolio. Growth in this market requires new product categories," says Doug Wolma, vice president and general manager – Dana Aftermarket Group.
This is an area where associations with buying groups appear invaluable. More than 70 percent of buying group members who responded to November's Truck Parts & Service survey rated "Access to Variety of Vendors" as a very important or extremely important factor in their group membership.

Not coincidentally, both VIPAR Heavy Duty, HDA Truck Pride and the industry's national aftermarket chains say they actively expanded their purchasing of new product lines in 2015.
"We are taking market share with our core supplier partners and working closely together to support and grow their brands," says Steve Riordan, chairman and CEO at TruckPro.
And at least in 2015, aftermarket suppliers returned the favor. November's Truck Parts & Service survey determined more than 50 percent of aftermarket suppliers added product lines in 2015 and another 17.2 percent considered expansions.
Minimizer added nearly a dozen new products last year and each one was met by the aftermarket with almost immediate and universal acceptance, says CEO Craig Kruckeberg.
"When we bring them a new idea they always run with it," he says.
But he says Minimizer's success doesn't come without support. The company tirelessly markets to and educates distributors and end users on its new products so they are quickly accepted, Kruckeberg says.
"Training is where you get the biggest bang for your buck," adds Christensen. "If you can get out there and show your distributors and their customers how your products can save them money — through pricing or [total cost of ownership] — that's where you get them."
Unfortunately 2015 also proved to be year heavily influenced by damaging external factors.
Falling oil prices globally led to a dramatic pull back of oil drilling in North America, which parked trucks and cratered aftermarket sales opportunities in the oil-rich territories across the Western United States and Canada.
Both distributors and suppliers were negatively impacted, particularly in the off-highway sector, says Ramon G. Aguillon, aftermarket sales manager at Allison Transmission.
"Our aftermarket sales in 2015 are down in comparison to 2014, mostly as a result of the slowdown in the off-highway market related to a decline in both the mining and energy sectors," he says.
"Our distributors in the oil fields had it very rough," Reimondo says. "Those guys live and die by the success of that business and it just wasn't there for them [in 2015] like it had been."
Those feelings were echoed by Truck Parts & Service survey responders.
"Overall we have seen growth in certain markets but our oil and gas business is down dramatically, which was a fairly good size portion of our previous year's business," wrote one responder.
"The natural gas industry has pretty well dried up," said another. "We are having to pursue many other avenues as a result."
Canadian distributors and their suppliers also have spent the last year battling an unstable exchange rate.
"With it being so volatile you never know what the supplier will do in setting the currency rate and that's difficult," says Robyn Spitzke, president at Fort Garry Industries. "You can try to prepare for it but it's a bit like buying a lottery ticket."
Even with aggressive inventory management plans, she says her company is still forced to be reactive.
And Jerry Conroy says it's no easier for suppliers. As North American regional vice president – Aftermarket sales at Bendix, Conroy cites the uncertainty of the exchange rate among his biggest concerns in 2016.
But the problems faced by the aftermarket last year and looming ahead can't entirely be blamed on outside factors. Crippling low margins in some product categories fall directly at the feet of the industry itself.
"I think the single largest concern in the [heavy-duty] aftermarket is the commodification of the truck parts business," says Reimondo. "There are high-volume product categories in the market now where there is no longer an opportunity to make money."
"Winning in the aftermarket is more than just the top line," adds Sturdivant. "If [suppliers and distributors] are both going to win we have to grow the top and bottom line."
Even relationship building became a challenge in 2015.
Supplier consolidation has its challenges, some of those being that it forces distributors to adapt to new distribution structures during each merger and acquisition, Crowley says.
"It's tough for us because our relationships keep changing," he says. "Sometimes it works great, but sometimes one supplier will purchase another and they will change [the latter's] philosophy and that can be a concern."
"It's not that you can't maintain a strong relationship with [suppliers], it's just more challenging," says Karon.
Luckily none of those adverse issues have sent aftermarket members running toward the bunker. Eaton Aftermarket Marketing Manager Bill Fouch says his company withstood the challenges of 2015 to record an "extremely solid" year, and is optimistic looking ahead.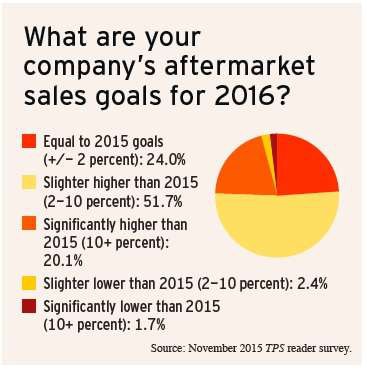 "[The aftermarket] will be up slightly over 2015," he says of expectations for 2016. "Eaton expectations are to continue to grow share in the aftermarket by continuing to work on relationships and bringing value to the market."
"We expect that the U.S. heavy-duty aftermarket will remain stagnant for the first half of 2016 with some modest improvement expected mid-year and beyond," says Riordan.
And for companies that excelled last year, like Hogebuilt, internal goals have been set even higher.
"We couldn't have had a better year [in 2015]," says President Kyle Denu. "We are experiencing tremendous growth." Denu says Hogebuilt had been on a positive growth track in 2013 and 2014 before exploding with sales last year. He says the business is aggressively reinvesting in its operation to support the success and better position itself to serve its distributor and end user customers moving ahead.
Overall, 95.8 percent of Truck Parts & Service survey responders have set goals equal to or greater than 2015 for the year ahead.
With optimism like that, it's fair to say the industry is confident in its ability to withstand some bumps and bruises and ups and downs on the road ahead.
"I think 2016 is going to look a lot like 2015," says Crowley. Reimondo agrees. "I think the word I would use is stable. I don't think we're going to be seeing any big jumps in numbers, but I think we're in good shape."