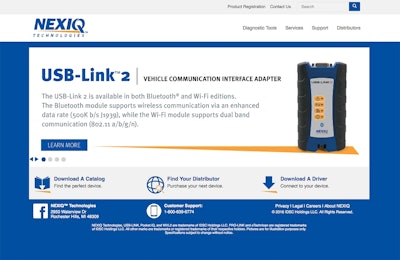 NEXIQ Technologies says its new product website is now up and running.
According to NEXIQ, building a responsive design was one of the catalysts driving the creation of the new site, providing the optimum viewing experience for users on desktop, tablet, and smartphone devices alike. While continuing to provide comprehensive information on NEXIQ products and services, the company says the new site now provides users, and potential customers, the ability to view and download product sheets and user manuals. Device drivers are also available for quick and easy download.
NEXIQ says products featured on the site include the USB-Link 2 (the company's market-leading vehicle communication product, available in both Bluetooth and Wi-Fi editions), eTechnician HD (a PC-based diagnostic tool), and Pocket iQ (the leader in heavy-duty, preventative-maintenance handheld scan tools). Product cables and accessories are also featured.
Finally, a comprehensive list of distributors with detailed contact information is provided, making it easy to locate product distributors for both domestic and international customers, the company says.