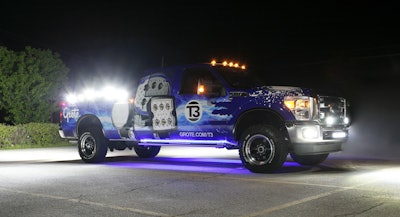 Grote Industries has added a new 2016 Ford F-250 Super Duty truck to its Trilliant Technology Tour lineup.
The tour includes three vehicles outfitted with lighting products designed and manufactured using Grote's cutting-edge LED technology, the company says. The trucks travel throughout the U.S. to educate Grote customers on the newest lighting technology and problem solving applications.  All three trucks cover Grote's heavy-duty and automotive aftermarket sales regions.
"Adding a third truck will really ignite additional excitement for our aftermarket customers," says Matt Forner, Grote director of aftermarket sales.  "Education of our customer base is a top priority. This newly added truck fits perfect with that goal."
The new truck features more than 70 LED lights mounted to the truck itself and on a display box that pulls out of the truck bed. Local Indiana companies were chosen to help design and build the tour trucks.  All wiring and metal fabrication was completed by RKO Enterprises in Madison, Ind., and the truck's decaled exterior was printed and applied by Signport, also of Madison, Grote says.
The new F-250 is stationed in Grote's Eastern Sales Region and will make daily stops at industry retail and fleet locations in the area, the company says.