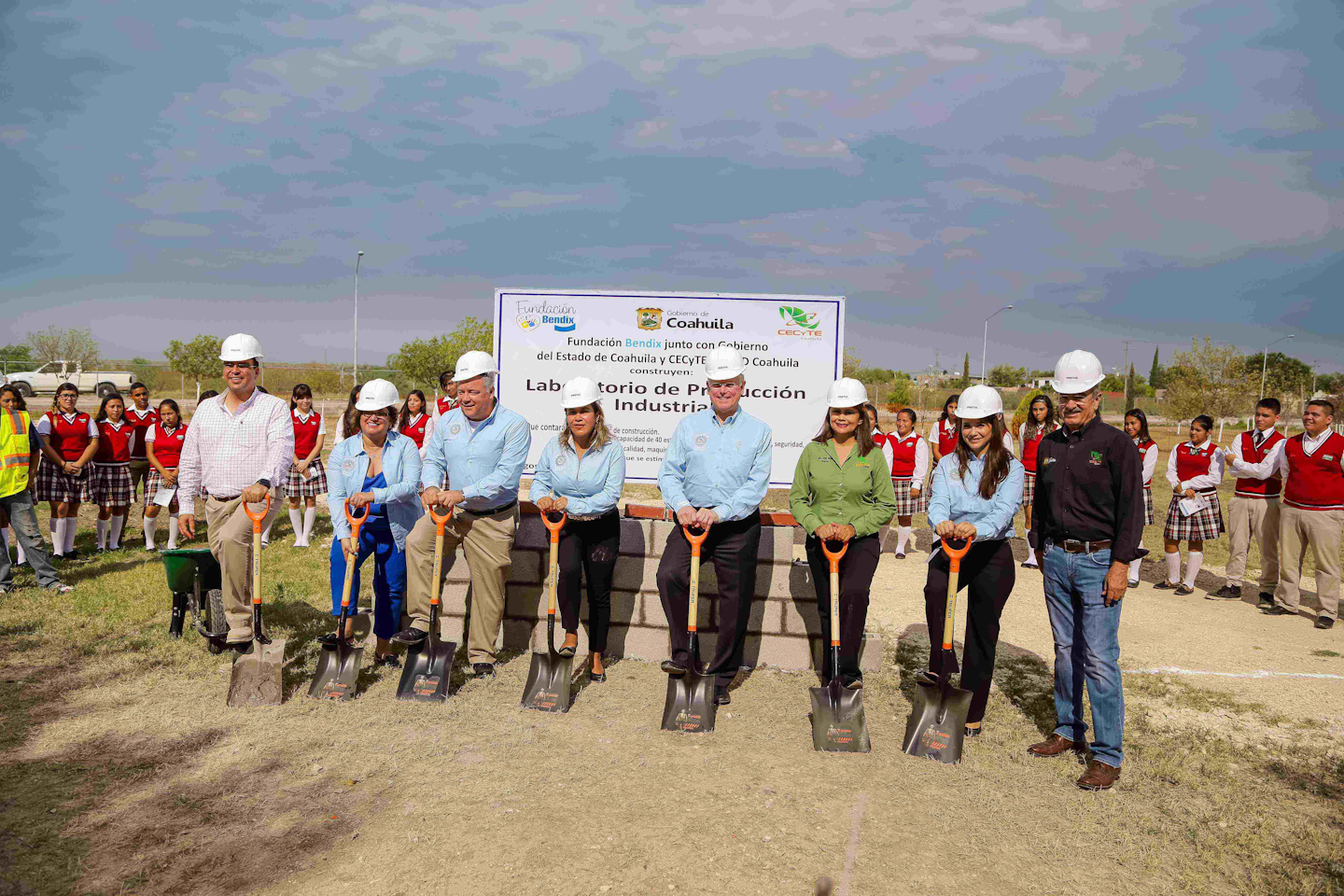 Bendix Commercial Vehicle Systems says Aug. 15, 2017, marked a key step in an effort bringing together Bendix, Colegio de Estudios Científicos y Tecnológicos del Estado de Coahuila (CECyTEC) – a local technical vocational school – and the Mexican government.
The three organizations broke ground on a new industrial lab for CECyTEC students in Acuña, Mexico. As part of the ceremony, leaders from the three organizations, joined by students, took part in a symbolic signing of the agreement uniting them.
Bendix says the laboratory is designed to increase the educational opportunities available to youth in Ciudad Acuña, Mexico, and was made possible by a shared commitment among the three organizations to enhance CECyTEC's facilities, infrastructure, and curriculum.
The new 2,500-sq.-ft. state-of-the-art industrial production lab is part of a two-initiative plan. Bendix Commercial Vehicle Systems will also provide a dual education apprenticeship opportunity for select CECyTEC students, while delivering practical training for the students at the company's Acuña campus. Bendix has maintained its growing manufacturing operations in Acuña, a city of 181,000, since 1988, the company says.
The company is working with CECyTEC on program curriculum and lab design.
Funding for lab construction and equipment is provided by Knorr-Bremse Global Care, Bendix/Bendix Foundation, and CECyTEC. They are contributing $150,000, $75,000, and $25,000 USD, respectively. The dual-education program is funded solely by Bendix, the company says.
"Acuña's growth as a city, and its expanding student population, are simply outpacing its ability to maintain infrastructure improvements," says Carlos Hungria, Bendix chief operating officer, who serves as project coordinator with Maria Gutierrez, director of corporate responsibility and sustainability. "This growth, along with Acuña's continued expansion as a key manufacturing city, also increased the need for a qualified workforce to meet the continuous new production demands. It is one of the reasons this program was created."
With completion expected by the end of the year, Bendix says the production lab will provide an on-site opportunity for CECyTEC students to simulate and experiment on practical industrial workplace scenarios. The apprenticeship program launched on August 28 and features ongoing two-year scholarships that combine classroom instruction at CECyTEC with hands-on training at Bendix. Four CECyTEC students were selected for the inaugural class in this visionary program; four additional students will be added in each subsequent year. A total of eight students will be participating concurrently at any time throughout the program, the company says.
"CECyTEC's focus on industrial production is a natural fit with Bendix. This industrial lab is an opportunity to enhance learning in areas such as Quality, Safety, Logistics, and Industrial Engineering," Gutierrez says. "The learning opportunities in an improved industrial lab environment will allow the students to enter the workforce better prepared for what to expect in a production setting – and to potentially excel into a leadership role in that setting."
In combination, Bendix intends the industrial lab and apprenticeship program to help better prepare students with the skills required to enter the workforce, while also exposing them to simulated and actual manufacturing work environments, the company says.