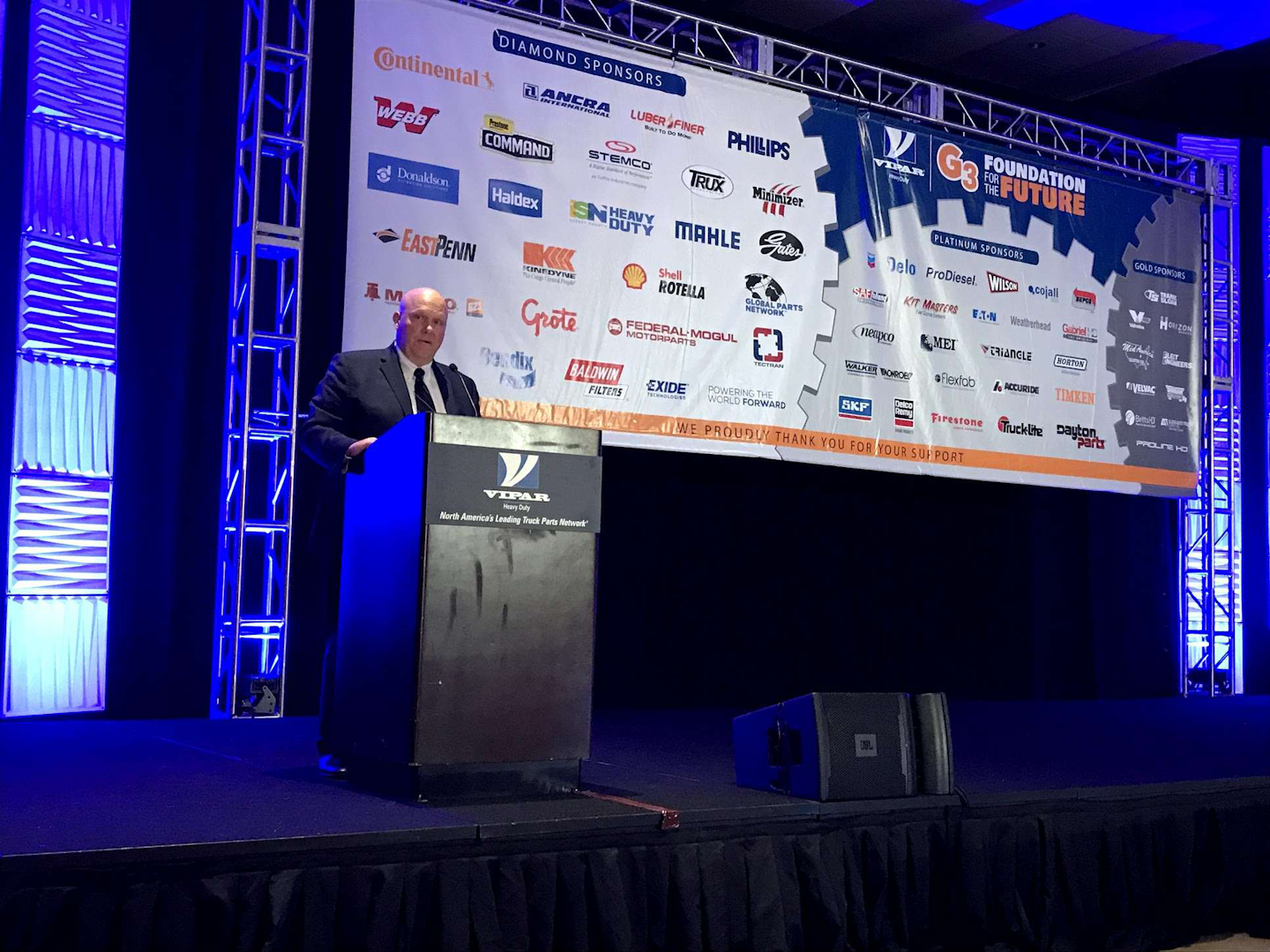 Chris Baer says his first year leading VIPAR Heavy Duty has been a good one. Speaking Monday during the opening general session at the group's Annual Business Conference, Baer, now one year into his presidency of the operation, says 2017 is shaping up to be "one of the most profitable years in the history of VIPAR Heavy Duty."
How is VIPAR doing it?
Baer credits optimization. He says VIPAR Heavy Duty has spent the last year realigning its leadership and business planning structure to best position itself to adapt to a rapidly changing aftermarket landscape. Those productive changes, coupled with a strong aftermarket sales climate, have allowed VIPAR Heavy Duty to revolutionize its business without skipping a beat in the marketplace. And Baer says that's good news for the future of the organization.
"Instead of growth at all costs, we're trying to grow while maintaining peak efficiency," he says. "We have the talent in the driver's seat to do that."
Additionally, VIPAR Heavy Duty Vice President of Information Technology Andrei Katibnikov says the company has recently been busy updating and enhancing its server and e-commerce competences. It is working with member business system providers to develop VIPAR-centric software improvements, improve data transfer and overall functionality.
In the e-commerce space, VIPAR Heavy Duty is releasing a business-to-business platform that will allow member companies to "connect to customers while leveraging your competitive advantages," says Vice President of Marketing Jeff Paul. He says the Web Shop platform will feature tools built specifically for VIPAR Heavy Duty to allow members to better promote product and enhance customer purchasing options.
Resilient leadership
In following Monday's theme of leadership and execution, Monday's session closed with a brief presentation by Jim Burns, vice president and managing director, JW Marriott Grande Lakes.
Burns says successful leadership in today's business climate requires an understanding of both rational and emotional decision making. Leaders today spend a majority of their time focusing on rational decisions (mission, corporate vision, performance measurement, etc.). Burns says that focus is understandable—it takes good planning to have a good business—but that ignoring the impact emotional thinking has on a business is dangerous.
He cites the example of a boss angrily demanding an employee clean up a mess that pulls them away from a customer service counter during a busy time. In his hypothetical, Burns says the leader made a smart, rational decision in dispatching employees to a counter ahead of a rush period, only to undercut their own planning when triggered by a mess.
Burns says "a leader's capability to manage their reactivity sets the tone and impacts the performance for the team or group he/she leads."
Missed the week? Here's what else happened at the 2017 VIPAR Heavy Duty Annual Business Conference
GenNext held another quality speed mentoring session.
Donald Cooper preached to distributors on the importance of clarity in business.
Frank Morgan held young aftermarket professional understand living in a VUCA world.