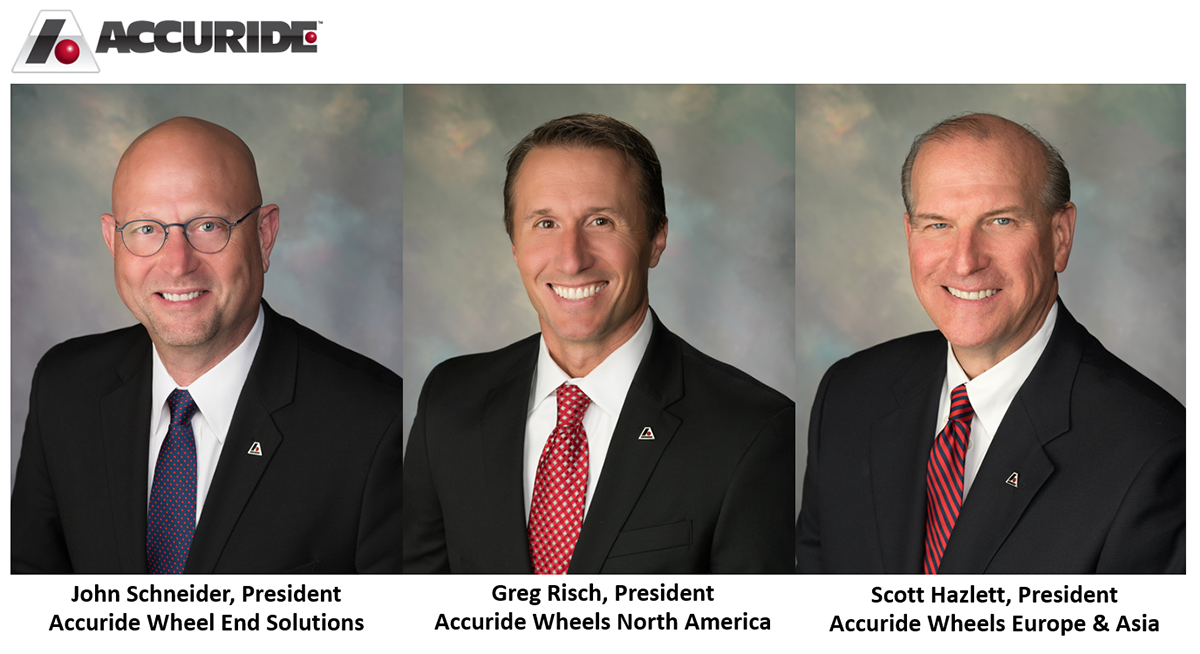 Accuride Corporation has realigned its organizational structure and made key appointments among its executive leadership team to support the company's continued expansion as a leading supplier of wheels and wheel end solutions to the global commercial vehicle industry.
Accuride says it is consolidating its wheel end components businesses – the previously stand-alone Gunite unit and the KIC business it acquired in May 2017 – into a single new business unit, Accuride Wheel End Solutions.
John A. Schneider, who joined Accuride as president of KIC, has been appointed to serve as president of Accuride Wheel End Solutions.  The value-adding products and technologies of this new business unit will continue to be marketed under the well-known KIC and Gunite brands respected by customers throughout the North American commercial vehicle industry.
In addition, Accuride has reorganized into two separate, coordinated business units for commercial vehicle wheels:  Accuride Wheels North America and Accuride Wheels Europe and Asia.  Gregory A. Risch, previously president of Accuride's Gunite business unit, has been appointed president, Accuride Wheels North America.  Scott D. Hazlett, previously president, Wheels, now serves as president, Accuride Wheels Europe and Asia. Risch, Hazlett and Schneider report directly to Accuride President and CEO Rick Dauch.
"These organizational changes and appointments better align our team to efficiently lead and operate Accuride following our acquisition of KIC, while supporting our continued global expansion initiatives, including completion of our pending acquisition of Mefro Wheels GmbH, which is now undergoing routine merger clearance review with appropriate authorities," says Dauch.
In his new role, Schneider has full P&L responsibility for the combined unit, including wheel end component production and assembly facilities in the United States, and a network of global contract manufacturing operations for certainty and flexibility of supply.  Schneider joined Accuride in May 2017 with the acquisition of KIC.  He had served as president of KIC since June 2016 and previously led KIC's dramatic sales growth as senior vice president and chief sales officer.
Previously President of Gunite, Risch now will lead Accuride's steel and aluminum wheel production and tire/wheel assembly operations in the United States, Canada and Mexico, as well as its wheels engineering and product development teams.  Earlier in his 23-year career with Accuride, Risch had served as the company's CFO from October 2011 to November 2015.  His other leadership roles included vice president and chief accounting officer, and director of Financial Planning and Reporting.
In his new role, Hazlett will have responsibility for planning and leading Accuride's expanding presence in Europe and Asia, which will include the efficient integration of the Mefro Wheels manufacturing and distribution operations in Germany, France, Turkey, Russia and China once the acquisition has received final regulatory clearance.  In addition, Hazlett retains responsibility for Gianetti Ruote, Accuride's majority-owned steel-wheel operation in Milan, Italy.  After joining Accuride in October 2011, Hazlett led the capacity and capability upgrade of Accuride's Gunite and Wheels businesses as senior vice president of operations.