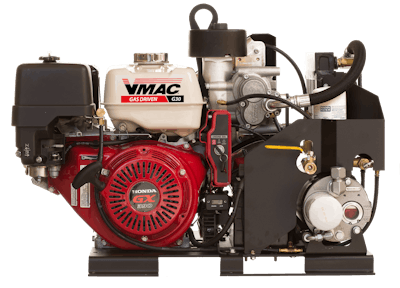 VMAC introduces its VMAC 30 CFM G30 gas engine driven air compressor, now available to equipment rental customers.
"There's been tremendous growth in the equipment rental market in recent years, and the market is expected to continue to grow over the next ten years," says Mike Pettigrew, VMAC marketing manager. "VMAC has responded to rental customers' requests for a lightweight, compact, and powerful air compressor for short-term jobs, and the G30 is the perfect solution."
According to VMAC, the 205 lb., compressor produces 30 CFM at 100 percent duty cycle, which means no time is wasted waiting for air, and no air receiver tank is required. This allows operators to work more productively, and complete jobs faster. Common tools powered by the VMAC G30 include impact wrenches, backfill tampers, 2 in. horizontal grinders, chipping hammers, die grinders and more.
VMAC says the G30 is popular with mobile repair and tire service technicians, as well as light duty contractors.