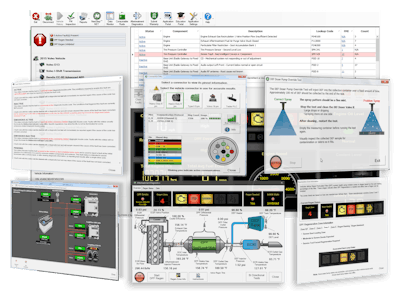 Noregon Systems announced its first major update of 2018 to its JPRO Professional 2018 v1 repair solution as well as an update to its fleet asset management tool, TripVision, during a press conference Tuesday at ATA's Technology & Maintenance Council (TMC) Annual Meeting in Atlanta.
Noregon Vice President of Sales Shane Gilliam says the updated JPRO release includes an improved NextStep troubleshooting and repair module, an education portal, a virtual truck for hands-on learning, and increased bi-directional tests. The enhancements to TripVision include new features to better provide real-time vehicle health and safety assessments, insights into performance related issues, and expert recommendations for managing each vehicle to maximize uptime.
Chief Technology Officer Dave Covington says NextStep underwent enhancements to provide tighter integration with JPRO Professional.
"We always look for ways to improve our products that will speed repairs and, in turn, improve vehicle uptime. Users can now view fault data, clear faults, and initiate bi-directional tests directly from NextStep," he says.
Gilliam says NextStep has been integrated into JPRO but a standalone portal named NextStep NET also is available as an a la carte solution provided at no additional charge to JPRO subscribers with the integrated NextStep.