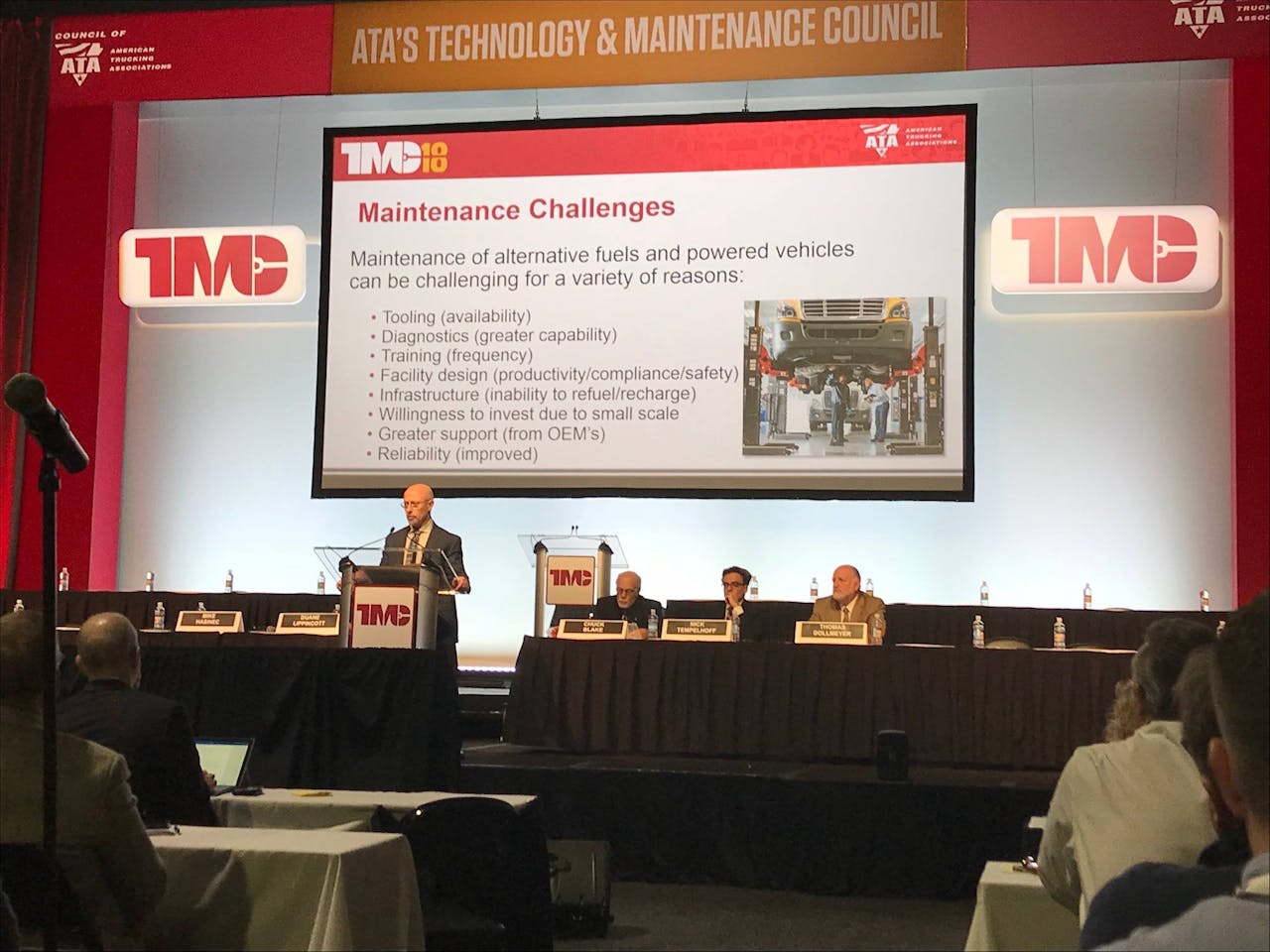 The when is yet undetermined, but a panel Tuesday at ATA's Technology & Maintenance Council (TMC) Annual Meeting in Atlanta says more alternative fuels and electric power sources are coming for trucking — whether the industry likes it or not.
"In a very near future major cities will demand trucks be powered by alternative fuels," says Mike Hasinec with Penske Truck Leasing. "That time is coming."
Hasinec's message was echoed by other panel representatives from Mercedes Benz, Cummins, and UPS, who are in agreement that diesel power could be numbered in some of the world's largest cities. Thus far no bans have been levied in North America, but with the topic in debate across the country, Tuesday's panel says it's time for OEMs, fleets and their service channel to start preparing for a different future.
When the time comes, it would be best for the entire industry to be ready.
Duane Lippincott with UPS says his fleet is already running more than 9,000 alternative-power units — a large number in the abstract but a small percentage when compared to the company's 116,000 global power units.
Lippincott says his team is working to evaluate the best power options for its business based on its coverage areas, and has made significant financial investments into its service channel to ensure its terminal locations in urban or urban-adjacent areas are designed and tooled for natural gas, hybrid, electric and other possible truck repairs.
He says at this point UPS has trained a small group of technicians to manage its 9,000 alternative-powered units, but that more will be trained in time as necessary. He says the key for his business is determining exactly when to do so. Service facilities don't want to do it "too early or too late," he says.
Hasinec says when that training time comes, fleets and service centers will need to be able to rely on their OEM partners, and to him, that means those partners will need to up their alternative power commitments. Hasinec says today's trucking industry hasn't dedicated much time or resources to alternative power because interest hasn't been there. But if cities, states or the Federal government start kicking the tires on any legitimate bans, Hasinec hopes the OEM channel sees that and responds with research and development.
In fact, he believes the goal should be all three parties working together to adapt new emission standards and regulations. Ideally, Hasinec thinks it would be best if the Federal government was involved in any regional emission standards so there would be consistency from place to place. Laws making a power source illegal in one state but acceptable when crossing a bridge to another state are no good for anyone.