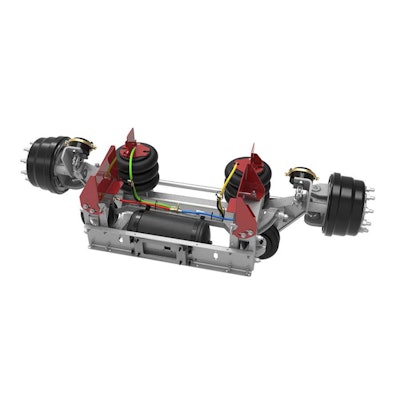 Link Manufacturing Ltd., has announced the availability of its completely redesigned family of self-steer auxiliary suspensions. The auxiliary suspensions are available in 8K and 13.5K capacities, along with Link's first 10K option. A 20K model will be unveiled later in the year.
Installation is 50 to 75 percent faster – Featuring "swift mount" technology, Link's self-steer auxiliary suspensions use patented interchangeable ride height brackets and integrated air kits to reduce installation time by three to five hours. The brackets also help alleviate inventory concerns by enabling companies to keep four sets in inventory, which can be used to mount any Link auxiliary suspension. To provide even greater ease of installation, the "stepped-edge" design helps the installer center the suspension on the frame, greatly reducing the time to achieve true alignment. The optional fender bracket attachments eliminate the need to remove the hub during installation. Customers also benefit from Link's five-day lead time on product delivery, according to an announcement.
Reliability, durability and convenience in one package – The 8K and 10K auxiliary suspensions incorporate heavy-duty bearings and are engineered using proprietary brakes and drums, which are readily available, enabling the new 8K and 10K to outperform all others on the marketplace, the company says. The 13.5K suspension is available with optional disk or drum brakes. Engineered to Link's exacting standards for reliability and durability, all auxiliary suspensions are equipped with new rugged cast arms and Link-KOAT migratory self-healing metal treatment to provide corrosion resistance and rust protection. A compact mounting envelope, combined with optional integrated air control system, also saves valuable frame rail space.
"Our redesigned family of self-steer auxiliary suspensions provide distinct advantages of convenience and performance for body builders, vocational fleet owners and drivers. Fast shipping, quick installation and responsive customer support, combined with the reliability and durability Link is known for, results in a lower overall cost of ownership," says Jim Huls, president of Link Manufacturing. The 8K, 10K and 13.5 K auxiliary suspensions are available for next-day shipping.
"Our new auxiliary suspensions with "swift mount" technology further demonstrate our drive to outperform by collaboratively engineering solutions based on market needs and customer feedback," Huls adds.